10 Cute Dresses for Summer Priced $75 or Less • Budget Fashionista
Posted on |
Thank you to the Kiwi Lounge for sponsoring this post and sharing these 10 super cute dresses for summer!
The summer of 2020 must have gotten lost in the ether because I don't remember buying a single dress last year. And a look in my closet confirms it — my summer dress collection is played out. Sure, I have some classic options like a midi-length jersey dress, a baby doll option, and an A-line.
But I'm craving new colors and silhouettes, with the caveat that any dress I buy can't be too trendy. I want to wear it next year after all.
This post may contain affiliate links. See our privacy policy.
A tall order, I know. Thankfully I found 10 beautiful summer dresses at Kiwi Lounge, all priced under $75 and most priced under $40. See my picks below and share your thoughts in the comments.  
1. The girly girl summer dress ($39)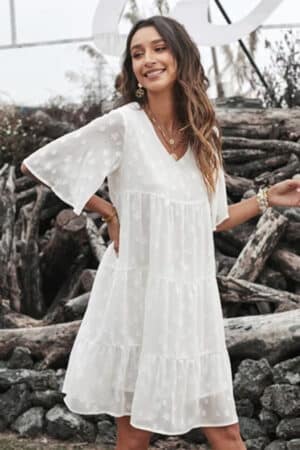 Tiered, sheer, layered, and adorned with stars — what else do you need in a summer dress? Everything about this pretty white dress is feminine, from the baby doll shape to the delicate, elbow-length sleeves. Wear this piece with your favorite necklace grouping, sandals, and a pink or soft coral pedicure.
2. Casual bodycon ($24)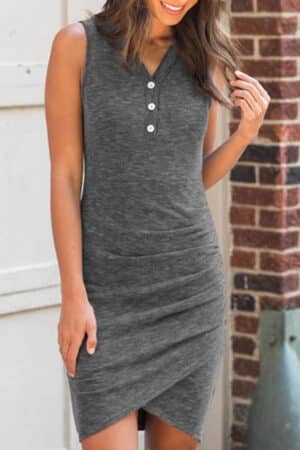 Show off your shape with this polyester/spandex tank dress featuring flattering gathers on your left hip. The button detail adds interest and draws the eye to your top half, while a subtle seam emphasizes your natural waist. Stud earrings and a nice pair of Converse or Stan Smiths are the perfect accessories here. For cooler nights, reach for a cropped denim jacket to wear over the top.
3. The essential shirt dress ($33)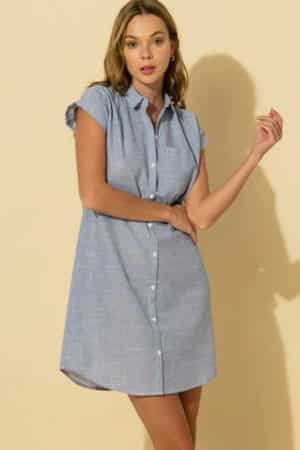 The shirt dress is an essential wardrobe staple. This one has a relaxed fit that hints at your shape underneath. You can add a pop of color with a cami underneath. Or, slip a belt on top for an entirely different look. The oxford vibe paired with a shorter hemline is perfect for those casual days when you're ready to take on the world.
4. It's a man's world ($60)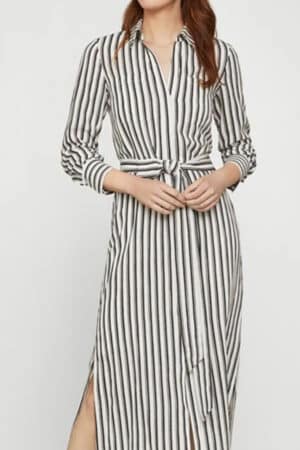 You're likely to feel more empowered just by wearing this menswear-inspired, ankle-length shirt dress. A slightly aggressive neckline and side slits balance out the masculinity perfectly. And the tie at the waist provides adjust-ability for the right fit. The fabric is a rayon-cotton-linen blend, which delivers a soft, lightweight feel.
5. That's a wrap (dress) ($72)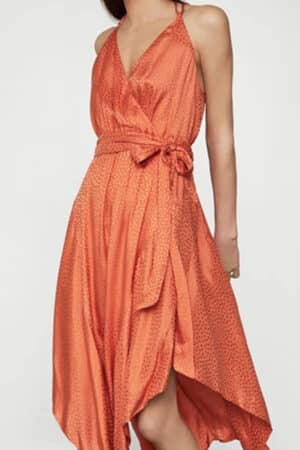 The dotted satin wrap dress is the priciest on my list, but also my favorite style for this summer. It combines classic wrap styling with an on-trend color, handkerchief hem, halter top, and racerback. Oh, and polka dots! The dress is flirty, sophisticated, and flattering all at once. Wear it with pearl earrings and delicate, flat-soled sandals.
6. Bold in ruffles ($59)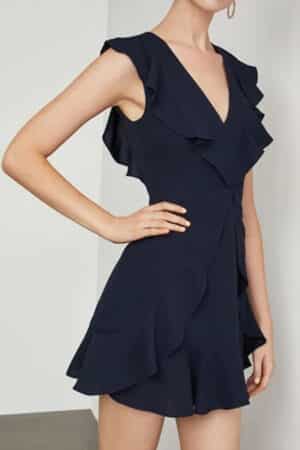 How about a ruffle dress with a superhero vibe? The neckline and well-placed ruffles will accentuate your top half, while the high waistline and short hem let your lower-half curves show off, too. It's constructed of lined, polyester crepe black satin — so it'll hug your body without spotlighting any imperfections.
7. The off- or on-shoulder dress ($20)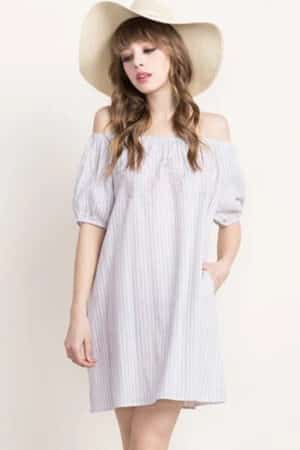 Here's a pretty A-line, cotton dress that you can wear off the shoulder or on. As an off-shoulder dress, your shoulders obviously do the talking. Pull the sleeves up and they take on a flattering puff that adds nice balance if your shape is bottom-heavy.
The floral embroidery at the neckline eliminates the need for a necklace, too. Try a delicate bracelet or hair clip instead.
8. T-shirt style ($32)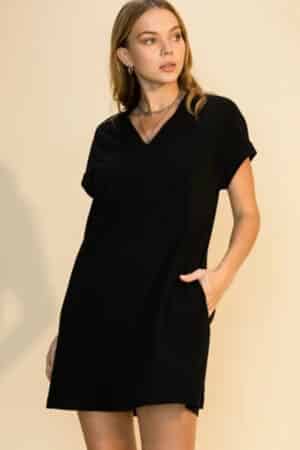 The Kiwi description for this dress begins with, "Sexy meets comfy." I couldn't say it better myself. You can wear this understated t-shirt dress on repeat all summer long. The cuff sleeves, v-neckline, and gentle A-shape are subtle details that flatter without being fussy. The hemline is short, but that only adds versatility. Wear it as a beach cover-up or as a top over leggings if showing that much leg around town feels too aggressive.
9. Come out swinging ($59)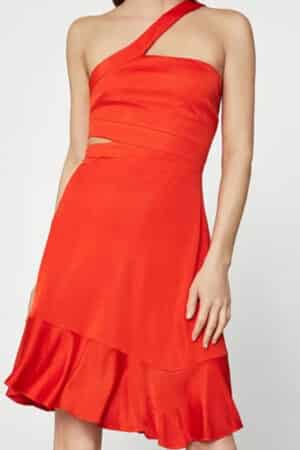 Feeling bold? Match a fiery red with a side cutout and a single shoulder strap and you have a serious statement on your hands. The body-hugging shape teamed with a flouncy hemline gives you the best of both worlds — a sexy fit that has some movement, too. This dress is made of viscose interlock and lined with a polyester/spandex stretch jersey blend.
10. Fabulous in print ($34)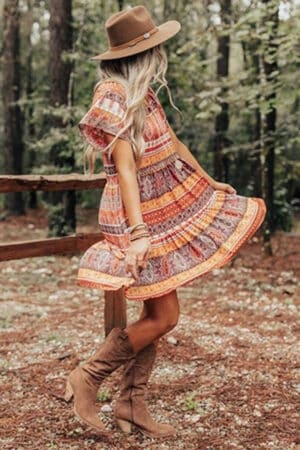 Bohemian never goes out of style. And this relaxed dress has an easygoing feel that's perfect for everything from outdoor concerts to road trips. You can accessorize it with layered, long necklaces and stacked rings, but you don't have to. A simple pair of sandals or even a pair of Toms would do just fine.
Giveaway: Win three pieces from Kiwi Lounge
Love these summer dresses? Then take a look at our summer style contest sponsored by Kiwi Lounge. You can win a free top, jumpsuit, and necklace. Enter now and come back daily for more entries!