10 Unfashionable Summer Sandals for Under $75 • Budget Fashionista
Posted on |
Coco Chanel said, "With four pairs of shoes I can travel the world." We all have our favorite styles, but I'd include a pair of pretty summer sandals in my world-travel bag. Paired with a sweet summer dress, sandals are my favorite choice for city sightseeing, walking the boardwalk, and sipping fancy cocktails in the afternoon.
Unfortunately, my current summer sandal collection is bleak. Worse, I decided I don't love what's trending in shoes right now. When I went on a mission to find dainty, feminine sandals to show off my baby-blue pedicure, I was disappointed.
Chunky, thick-soled, banded sandals are the styles of the day. Some designers, it seems, forgot to deliver designs for the days when we're feeling a girly vibe.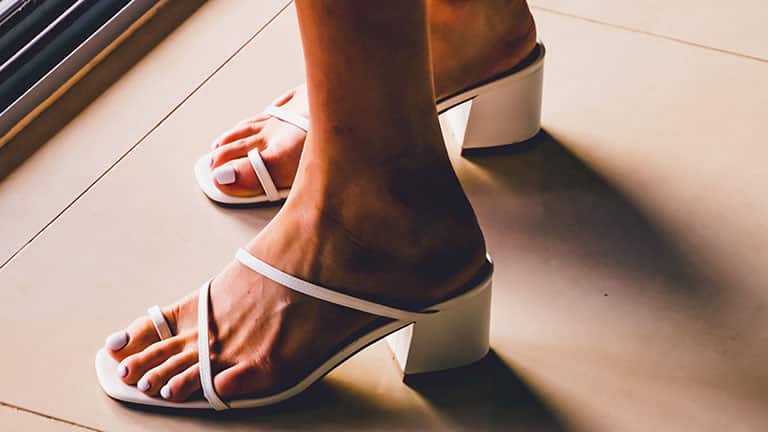 This post may contain affiliate links. See our privacy policy.
That's why I decided to buck the chunky shoe trend this year. I kept on with my shoe search (for way too long) until I found 10 cute, affordable, and non-trendy sandals. Read on if you want to join me in walking your own way this season. Enjoy!
1. Asher summer sandal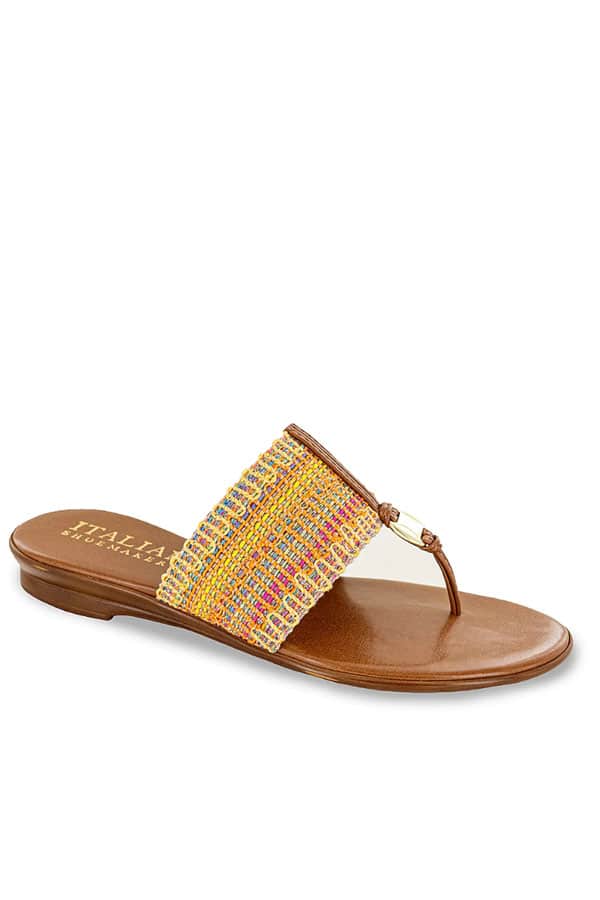 The Asher sandal has a wide band across the foot, but it's balanced with a narrow toe string that runs right down the middle. There's also a gold-colored detail where the toe string meets the band, which adds shine and a touch of formality.
This $40 summer sandal is available in nine colors. My favorite is the woven multicolored model with orange, pink, and yellow. Those colors are fashionable this season, even if the shoe style isn't.
2. Carbren sandal by Kelly & Katie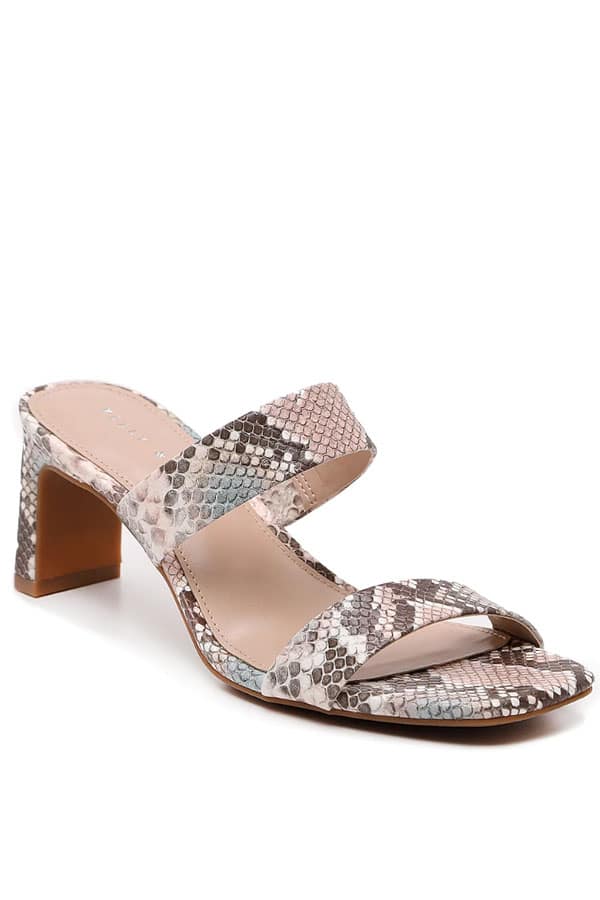 Next is the $45 Carbren sandal by Kelly & Katie, available in black or snakeskin. The slide style and sturdy block heel make this style a low-maintenance, versatile addition to your summer wardrobe. You can wear these shoes with jeans, shorts, skirts, or dresses. They're also easy to dress up or down. Best of all, thanks to classic styling, this sandal can remain in your rotation for years.
3. Cristal sandal by Franco Sarto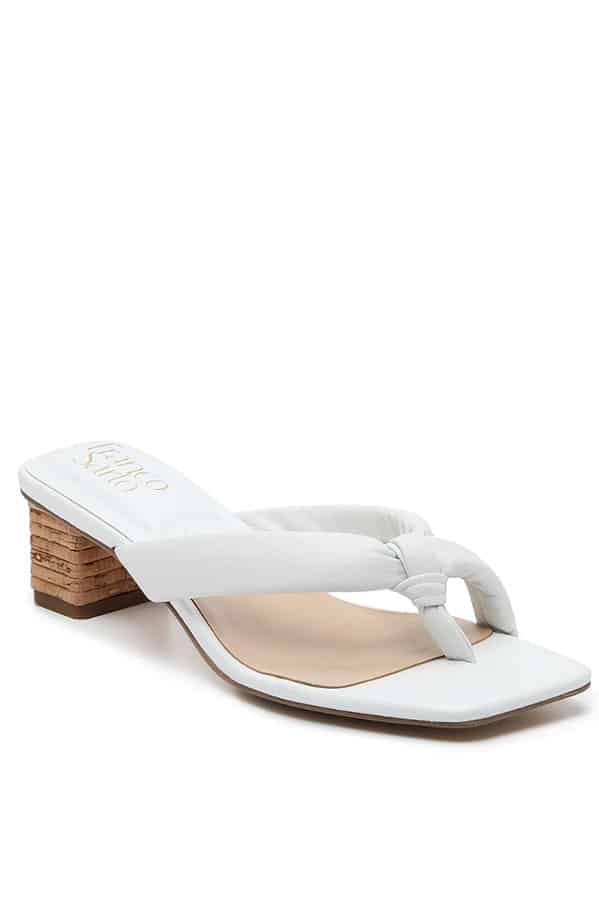 Here's an elegant take on the flip-flop. The $60 Cristal sandal by Franco Sarto reminds me of Ginger from Gilligan's Island for some reason. I can picture her slipping these on with the evening gown she regularly wore while stranded on the island.
The toe loop keeps the shoe in place, while the squared toe and stacked cork heel add sophistication. Match these up with any floral summer dress or skirt for a look that's perfectly polished but still casual.
4. Caela espadrille sandal by Steve Madden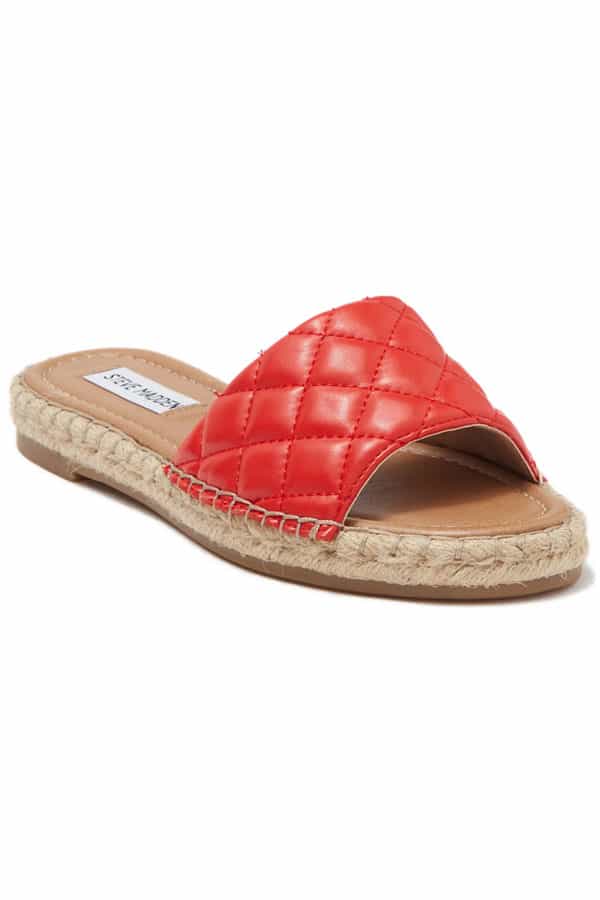 The $45 Caela espadrille blends the espadrille and slide styles into a pretty, flat-soled shoe that can take you anywhere this summer. The open toe shows off your pedicure and the quilted vamp strap provides just the right amount of texture.
You can choose from black, white, or bright red. I like the black, but you might be bold enough to wear the red.
5. Saffron knot Slide by Crevo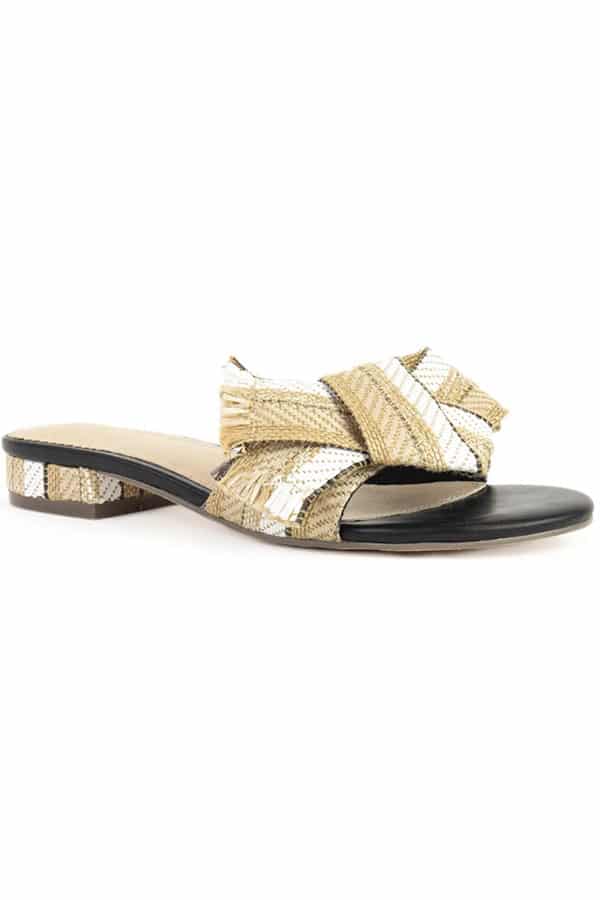 Crevo's $30 Saffron knot slide has an organic feel thanks to the woven texture on the heel and vamp strap. As a bonus, the sandal has memory foam padding — so you won't think twice about wearing these on a city sightseeing expedition.
I like that this shoe has a multicolored pattern to it, while still being neutral enough to anchor a wide range of outfits.
6. Strappy low heel sandal from Zara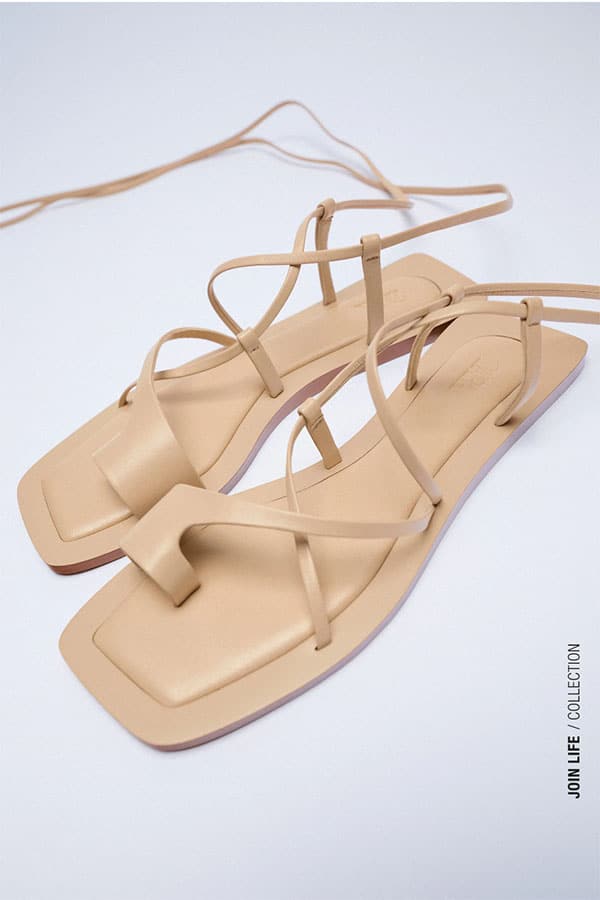 Normally, I see a flat-soled shoe like this and cringe. I can just imagine how sore my arches would be after walking a couple miles in them. But Zara has added an Airfit latex foam insole to cushion your feet from feeling every bump in the road.
The long ties on Zara's $70 strappy low heel sandal give you extra versatility too. When you're feeling subtle, keep those ties low on your ankle. When you're feeling bold, get your gladiator on and wrap those straps right up to your knees.
7. Pink vinyl sandal from Zara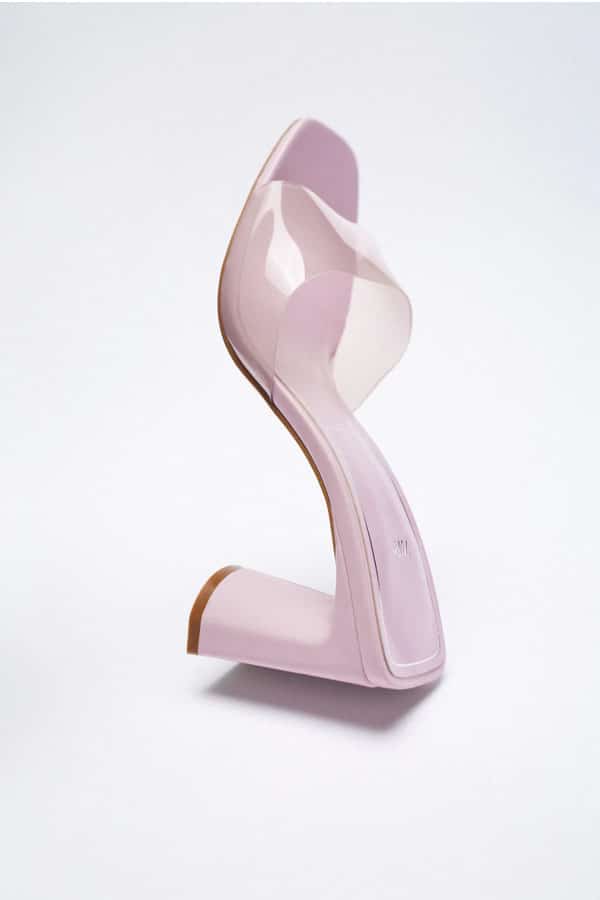 Here's another pick from Zara, a pink shoe with a 3.3-inch heel and a vinyl strap. It's elegant and feminine without being pretentious. I want to wear this Pink vinyl sandal with an A-line denim skirt and tank top. It's the antitheses of the thick-soled, utilitarian shoes that seem to be so popular right now.
This sandal also has Zara's latex foam insole for added comfort. The price is $50.  
8. Simmi London Cody sandal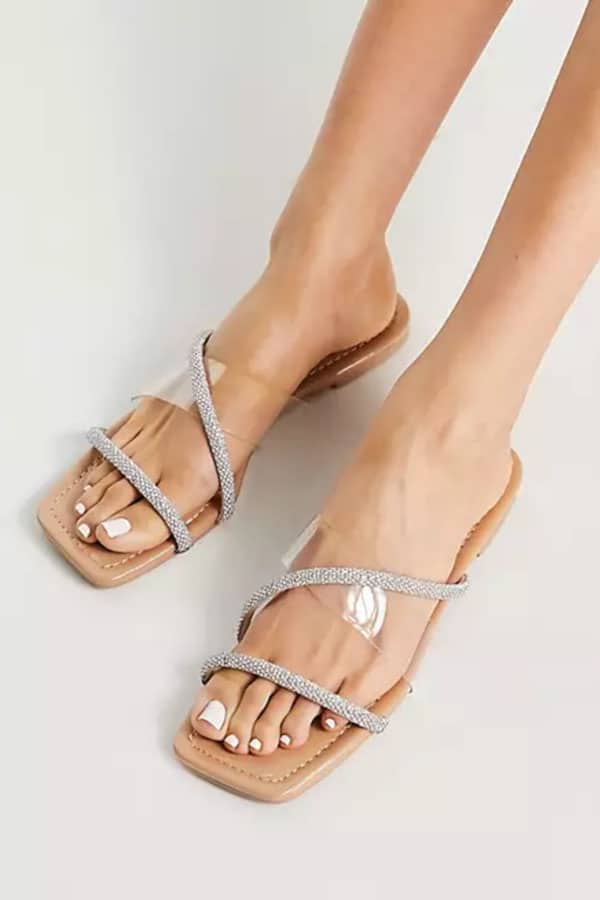 What's not to love about this conversation-starting sandal by Simmi London? Featuring a wider, clear strap and two thinner embellished straps, this shoe takes the concept of casual sophistication to a new level. Your friends will ask you about them — even when you're pairing them with a relaxed pair of denim shorts.
You can pick up the Cody sandal for the bargain price of $35 at ASOS.
9. Neon toe sandal from ASOS DESIGN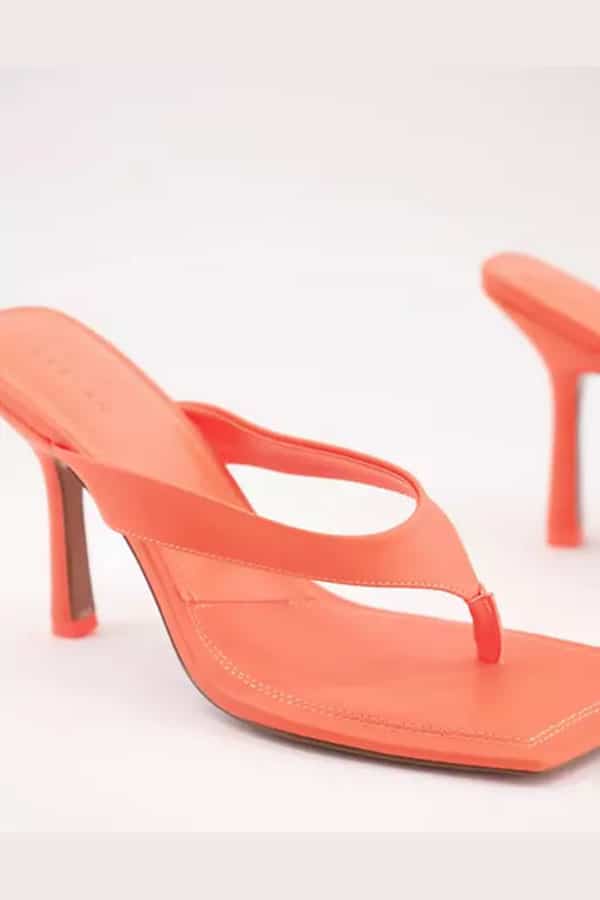 If you want to nod to what's trending without going all-in, the $43 Nissa toe sandal fits the bill. Oranges are everywhere this season — so much so that you could easily match your pedicure to this shoe.
The heel height of 3.7 inches is on the high side for a sandal but I love that the mildly aggressive heel (and color) is paired with minimalist styling. Team these sandals with an otherwise neutral outfit so they'll make a statement.