15 Pink Coats for Head-Turning Style • Budget Fashionista
Posted on |
Gone are the days of dark outerwear — this season has a fresher take on winter warmth! From moto to trench and faux fur to fleece, my favorite coat styles are showing up in all shades of pink. You'll see everything from the softest petal pink to rich fuchsia in outerewear this season.
I have a soft pink moto in my collection, but I'm ready for another in a different silhouette. Why not? When the skies are dark and gloomy, it seems like exactly the wrong time to wear black or navy or chocolate anyway. Lighter colors boost the mood, and provide a lovely contrast against your darker layers underneath.
This post may contain affiliate links. See our privacy policy.
Wanna help me shop? I picked out 15 budget-friendly pink coats as contenders. Here they are — let me know which is your favorite!
Pink coats: Short picks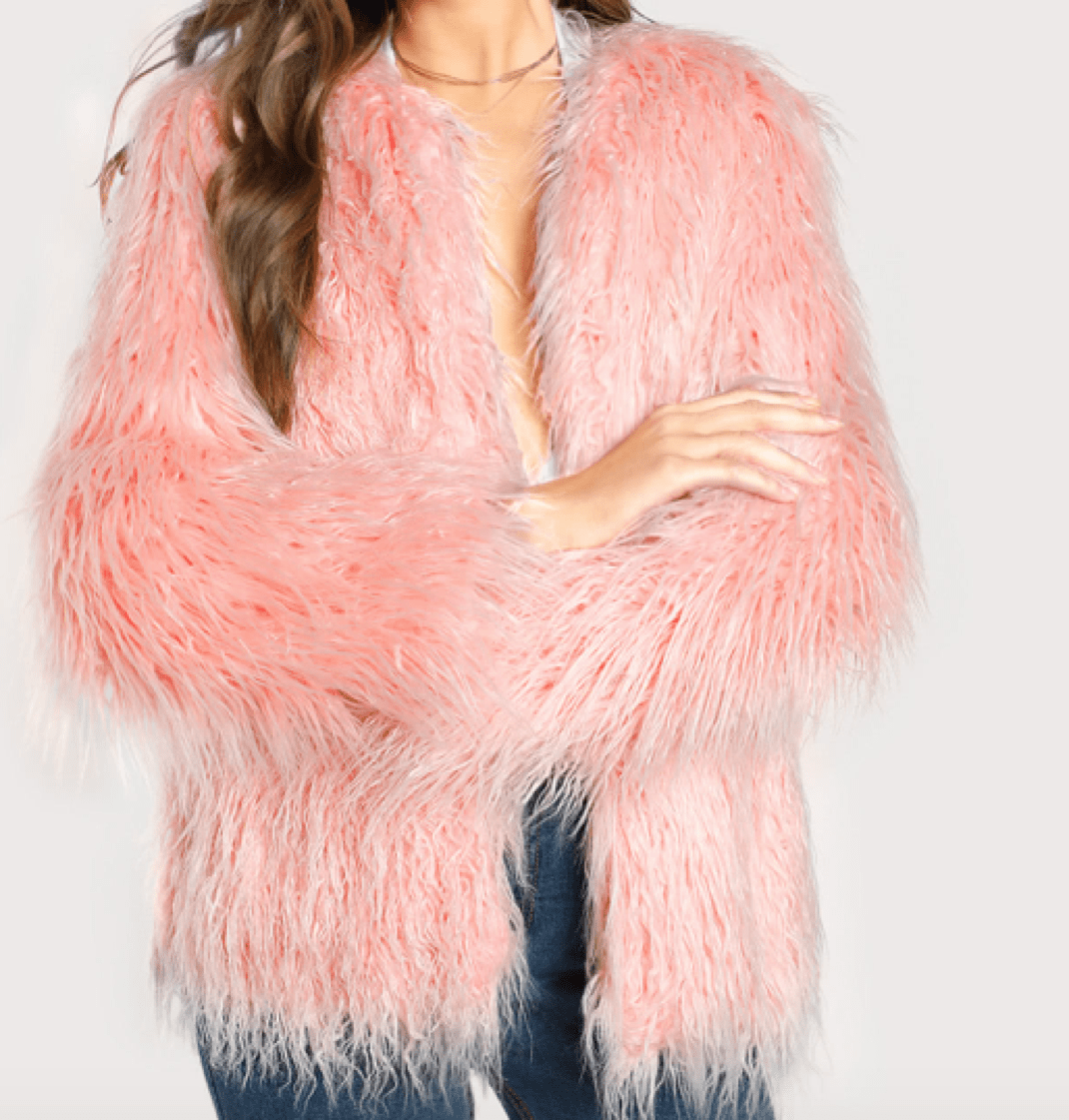 We can thank Game of Thrones for the rise of the statement fur! Go against the grain with this bold pink number ($43 at Shein) that's heavy on texture and personality.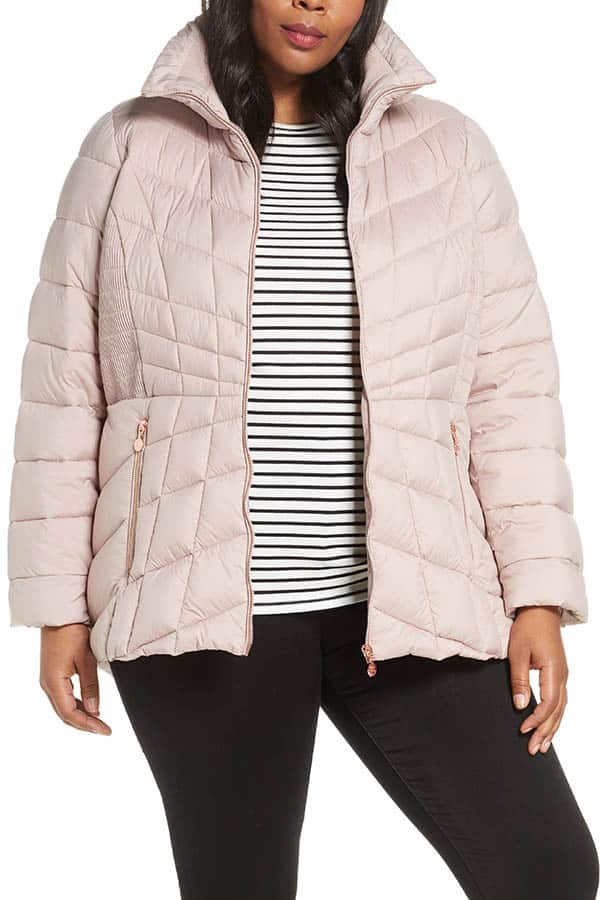 2. What puffers lack in shape, they make up for in warmth. There are days when nothing but a puffer will do — and on those days, I'd love to reach for this soft pink version by Bernardo. Make it yours for $99.90, on sale from $169 at Nordstrom.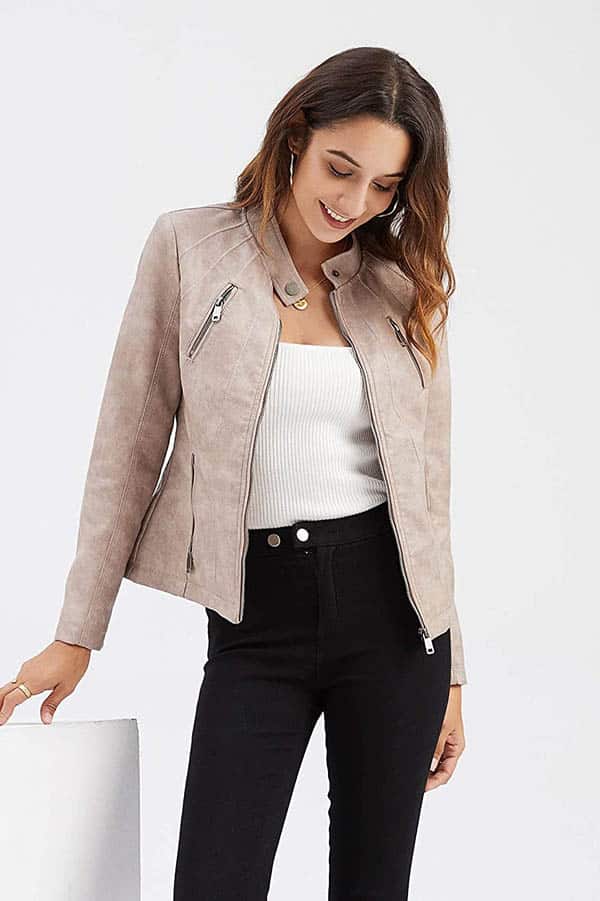 3. Take this cute cropped jacket with you anywhere, any time of year. It has a subtle, classic style and will play nice with your work clothes and your play clothes. Pick it up at Amazon for less than $80.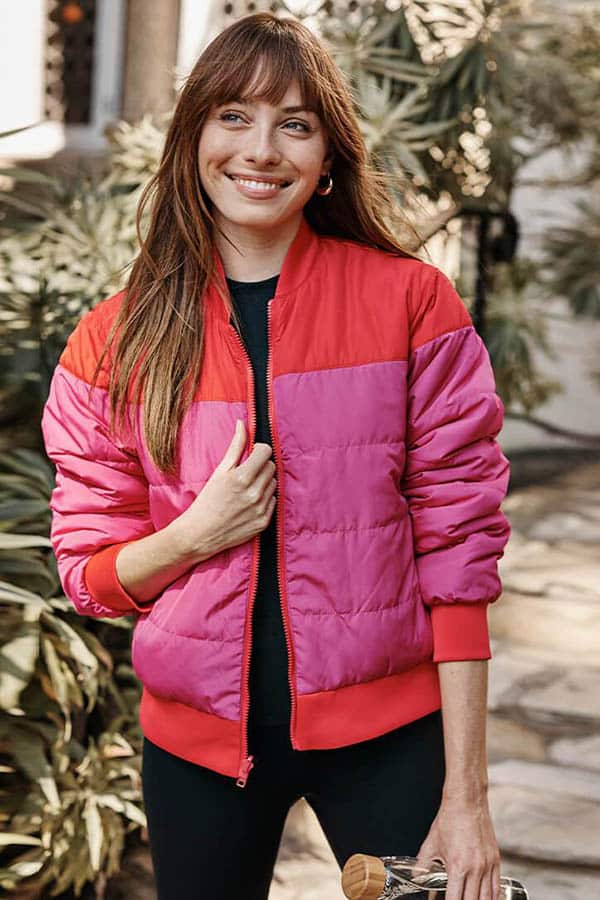 4. The casual bomber wears well over jeans, skinnies and even simple dresses. This one additionally turns heads thanks to the rich combo of fuscia and red. You can find this bomber at SummerSalt for $95.
Budget Fashionista Tip: Use the Coupert browser extension to save at 1000s of online fashion shops.
Pink coats: Mid-length style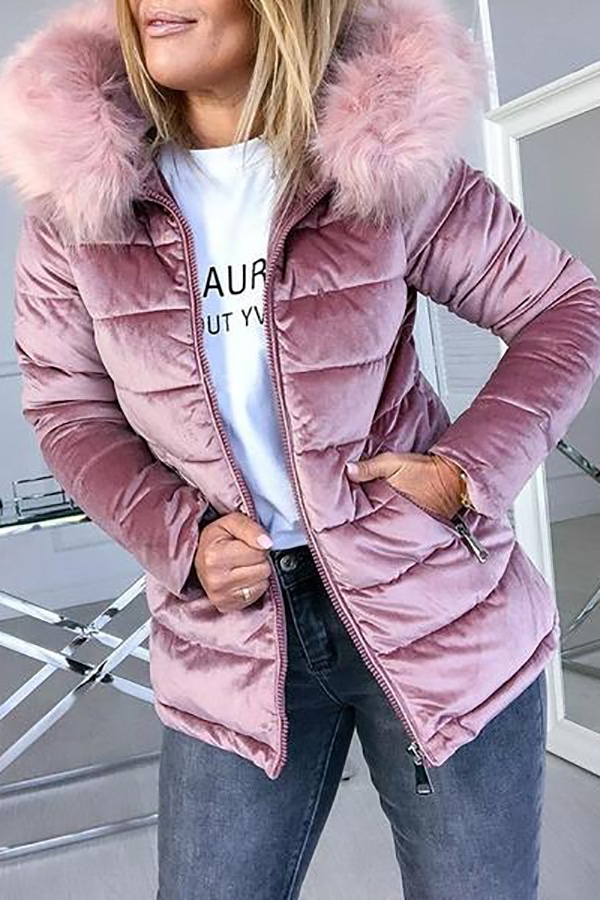 5. If you're looking for more ways to get in on the velvet trend, this pink velvet puffer with fur hood ($55) might be your answer. It has a relaxed fit without tons of bulk, so you can layer it over a variety of outfits.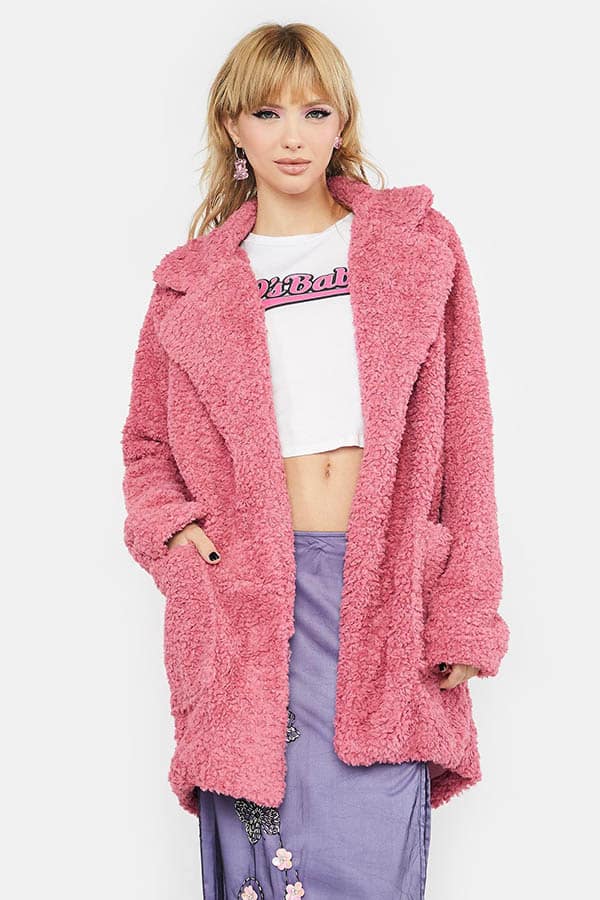 6. The texture on this longline blazer-style teddy is amazing, and the piece itself is just the right length. This one might be my favorite of the list — it has structure, but gives enough to feel like a soft robe. You can shop it at Dollskill for a sweet $55.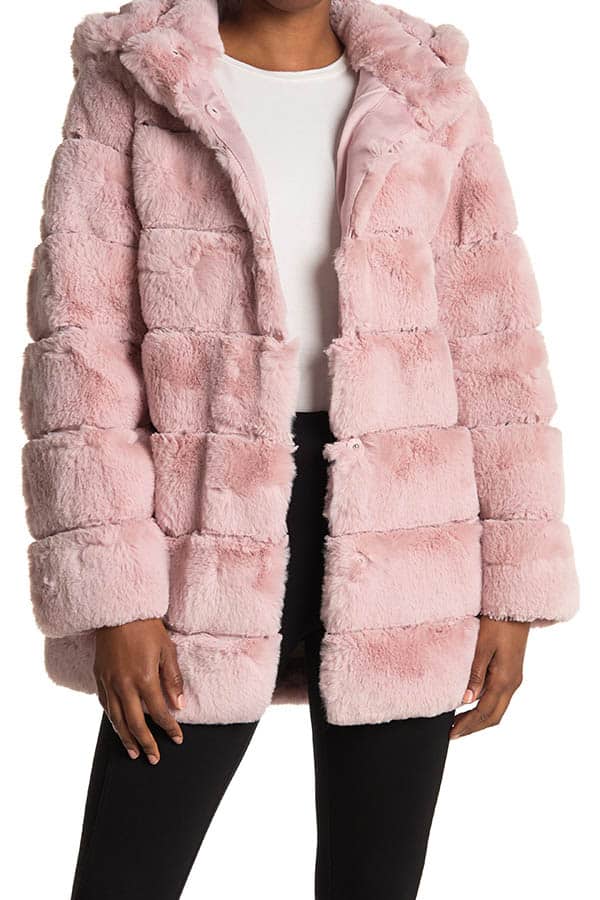 7. Adding bulk to your top half does have its advantages — this tactic generally makes your legs look thin. This cozy grooved faux fur coat from BCBGMaxazria ($149) gives you that look for sure.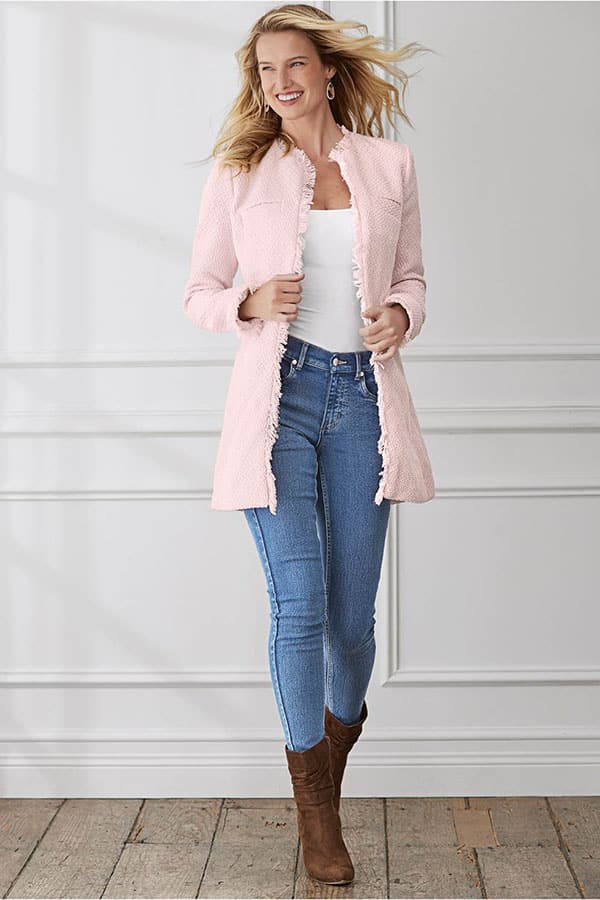 8. Soft pink, tweed, and fringe? Perfection. Use this piece as a midlayer — if you live very it's super cold, wear a sweater underneath and a longer puffer over the top. Venus sells this jacket for $69.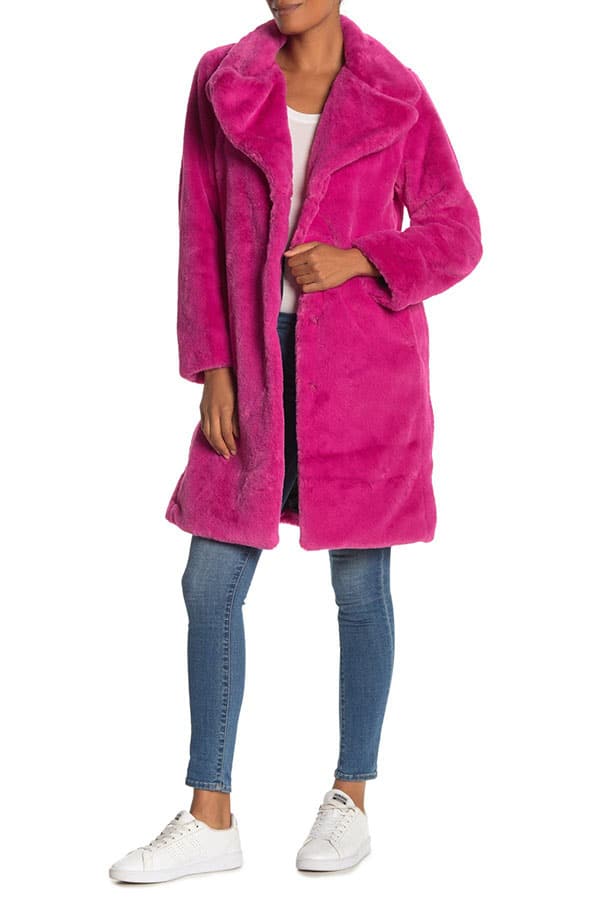 9. For those days when you're ready to make a bold statement, this fuchsia coat rises to the challenge. It's stunning really, even if somewhat less practical than its lighter counterparts. Get it at Nordstrom Rack for $70.
10. The Tahari Ella double face wool coat makes the list because it's adorable — and discounted more than 50% right now. Pick up this cozy wrap coat in powder pink for $149 if you act fast.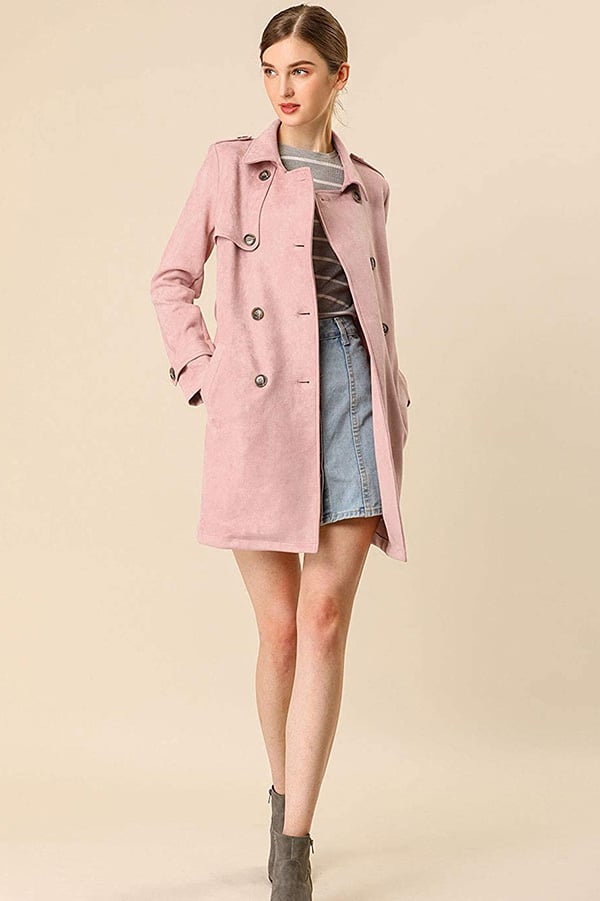 Here's a faux suede double-breasted trench coat that hangs to the mid-thigh. It comes with a belt, so you can cinch it up or work the A-line shape. At $67 on Amazon, you might worry that it's not well made — but user reviews say the opposite. I like this rosy pink color, but it's also available in a hot pink (plus the traditional colors of black, camel, and navy).
Pink Coats: Long & Lovely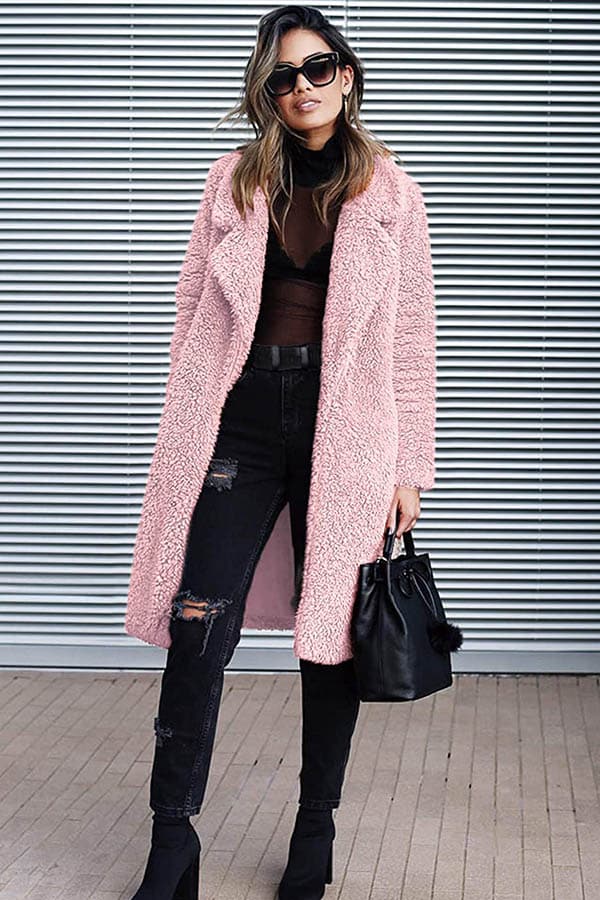 12. I'm pretty this sure fleece pink coatigan will make nearly anything look chic (except pajamas). For $55 on Amazon, it's a steal, too.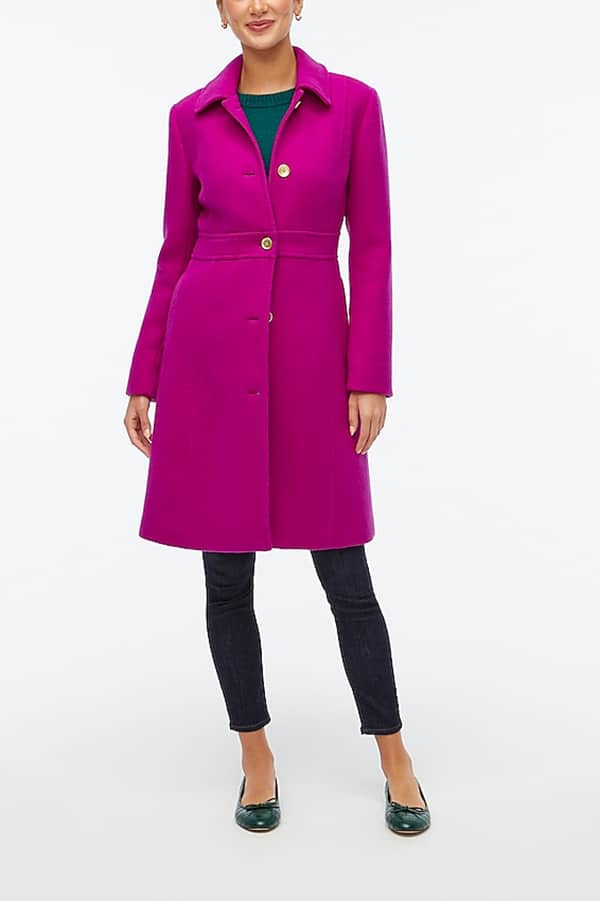 13. Sometimes you have to give up on convenience for style. This gorgeous and classically style hot pink coat is a poly/wool blend that requires dry cleaning. But it's certainly a statement-maker and formal enough to wear with heels over a dress. Pick it up at J. Crew Factory for $170 on sale.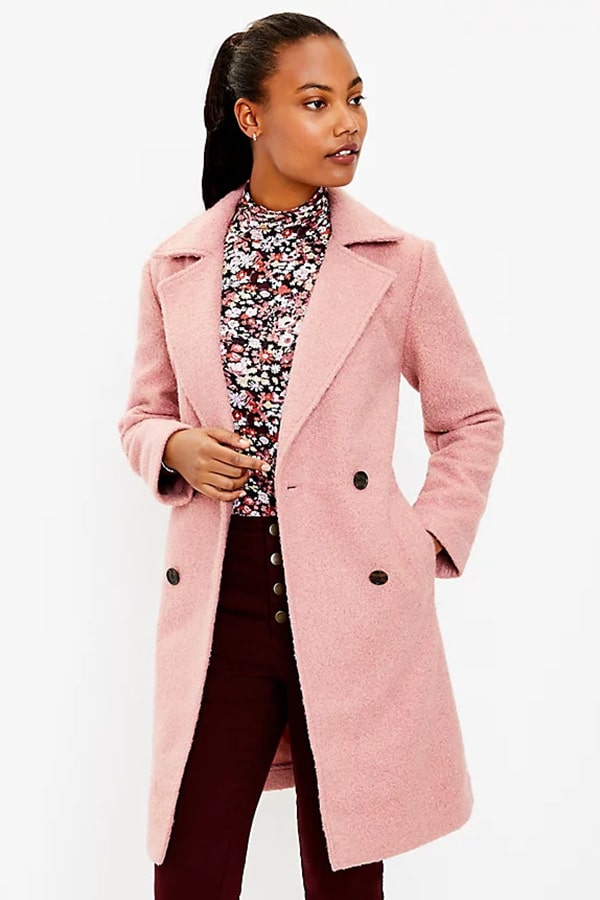 14. I like Loft's double-breasted pink trench for its versatile color that's a touch warmer than many other options. Like the fuschia coat above, it has classic styling that's appropriate for work and play. At $180, it's a little spendy, but I'd categorize this as an investment buy.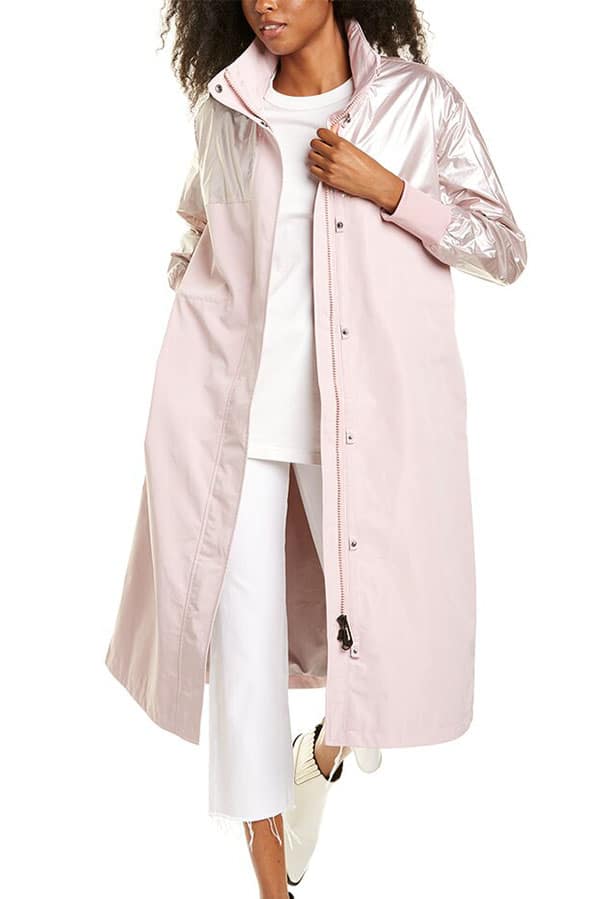 15. Last but not least is pink raincoat by Noize, available at Bluefly for $100. The reflective detail at the shoulder sets this piece apart from the rest and gives a nice shot of glam style. The coat is medium weight and machine washable.
So that's my list of pink coat contenders. What do you think?