6 Essentials for Summer Trips • Budget Fashionista
Posted on |
Summer is here folks! You may have skipped your summer trip last year — but this year you're forging ahead for some fun in the sun. You'd be super excited if felt more comfortable about your packing skills.
I get it. It's tough to know what to pack for vacation. I tend to swing back and forth between over-packing and under-packing as I try to correct what I did wrong the last time. So I've put some thought into defining the perfect packing list for a style-minded lady who doesn't want to cart around way too many rolling bags.
Whether you're headed to the mountains, a seaside resort with a cabana on the beach, a cruise, or planning a staycation in Houston or Long Beach or Toledo, certain vacation essentials are constant. Here are six of them to toss in your suitcase now.
This post may contain affiliate links. See our privacy policy.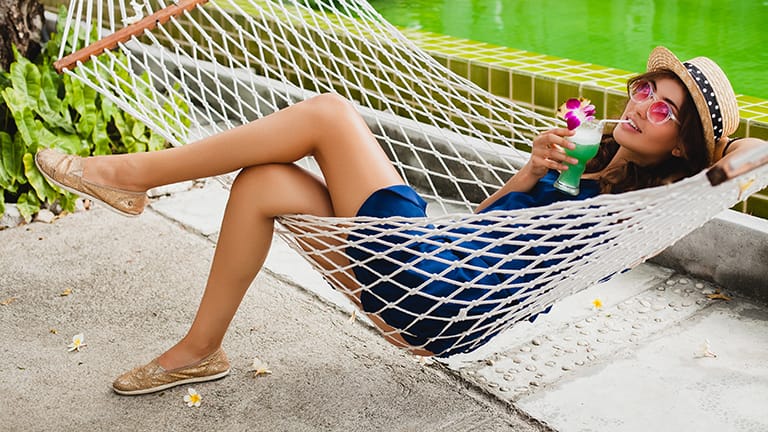 What to pack for vacation
1. Classy, casual dresses 
Since you're going to be in the summer heat, you don't want to pack dresses that are stuffy, heavy, too tight, or too stiff. You need chic clothing that works for everything from dinners out to evenings on the balcony overlooking the ocean with your sweetie. The most reliable garment to fit that bill is a lightweight, floaty casual dress.
Find a piece that's made of a polyester/rayon blend if you don't want to iron on your trip. And choose dresses that you can wear with sandals or sneakers while the sun's out, but also with heels at night.
2. Your favorite hat
There are many reasons to wear a hat when you're on a summer vacation — the biggest being reducing your risk of sun exposure. 
Floppy, boater, baseball cap, straw hat, or fedora — choose your style and bring it along for the ride. As long as the hat has a brim to shade your face and you feel confident wearing it, the style doesn't matter.
3. One-piece swimsuit
While it may be glaringly obvious that you need to pack a swimsuit for a summer trip, it bears talking about. While bikinis have their place and time, many summer activities call for having a one-piece swimsuit packed in your luggage. Snorkeling, surfing, and even vigorous swimming in a bikini puts you at high risk of having an embarrassing wardrobe malfunction.
Carry your two-piece for lazing away the day by the hotel pool. Have the one-piece available for the other activities that require it. 
4. A summer-weight sweater
While the summer has long sizzling days, remember to prep for chilly nights, too. A lightweight sweater is a lovely wardrobe companion. Throw it on over your shorts and t-shirt to attend that bonfire on the beach or for grilling on cabana's patio.
Budget Fashionista Tip: Use the Coupert browser extension to save at 1000s of online fashion shops.
5. Sunglasses
While you wear sunglasses to make you look cool and comfortable, they also serve a more important function. Whether you're on the beach or hiking in the heat on a mountain trail, sunglasses protect your eyes from the sun's rays. Find a pair (or two!) of sunglasses that block UVA and UVB rays and stash them in your travel bag.
6. Comfortable shoes
Imagine I'm saying this in a stern, grandmother voice: Do not forget comfortable shoes. I've made this mistake multiple times — packing an assortment of "cute" shoes, all of which feel like torture devices by the end of my trip.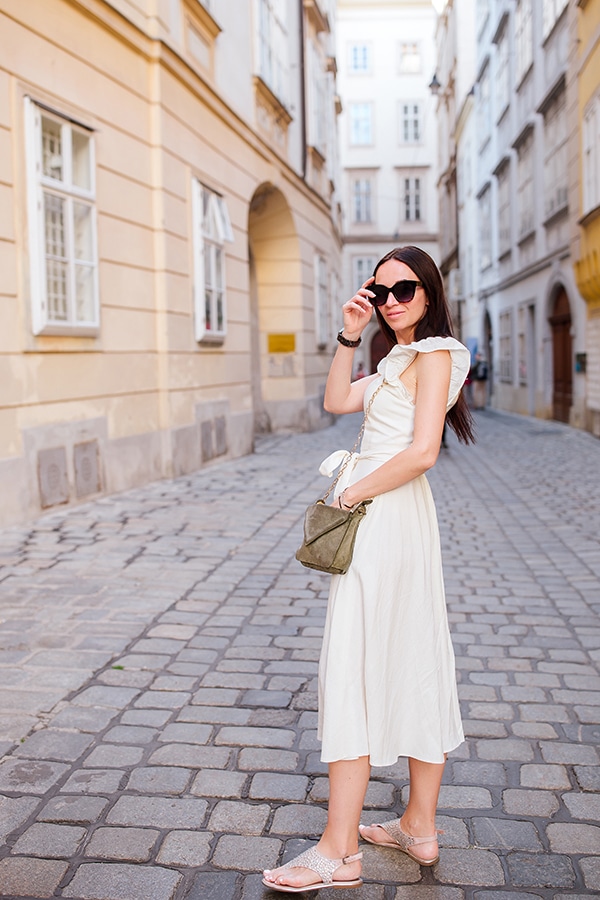 Here's my rule of thumb. If you haven't walked for several hours in a pair of shoes, don't bring them on your trip.
A cute pair of sneakers like Adidas Stan Smiths is a great choice. You can walk comfortably in them, plus wear them with shorts and your cute dresses. A sandal with a low block heel is a dressier option that can go from day to night. And then there's always the stylish flip flop.
So here's a recap of the vacation essentials to pack for your summer trip:
Cute, casual dresses
A stylish hat
One-piece swimsuit
Sunglasses
Comfortable shoes
Oh, and don't forget your anything-goes attitude!