7 Gorgeous Color Strategies to Try Now • Budget Fashionista
Posted on |
We're staring down the end of summer — that time of year we normally put away our florals and reach for the normal fall fashion colors. These are the burgundies, navies, olives, and shades of taupe and gray. I love these colors for their versatility, but they do reinforce the winter blues. From a mood perspective, doesn't it seem counterproductive to reach for blah clothes when the weather's blah, too?
Sometimes we don't have a choice of course. we are slaves to the color selections offered up to us by designers and retailers, after all. Thankfully, this is not one of those seasons.
Fall and winter of 2021 promise to be bright, at least in terms of fashion. Sweaters, coats, and other cold-weather staples are showing up on the racks in the full spectrum of colors, including neon greens, sunny yellows, fiery oranges, and girlish lavenders.
This post may contain affiliate links. See our privacy policy.
If you want to spread some cheer (to yourself and everyone around you) in the cooler months ahead, add some fun colors to your fall and winter wardrobe. Here are seven fall fashion colors to experiment with, presented by way of seven chic and affordable garments.
1. Neon green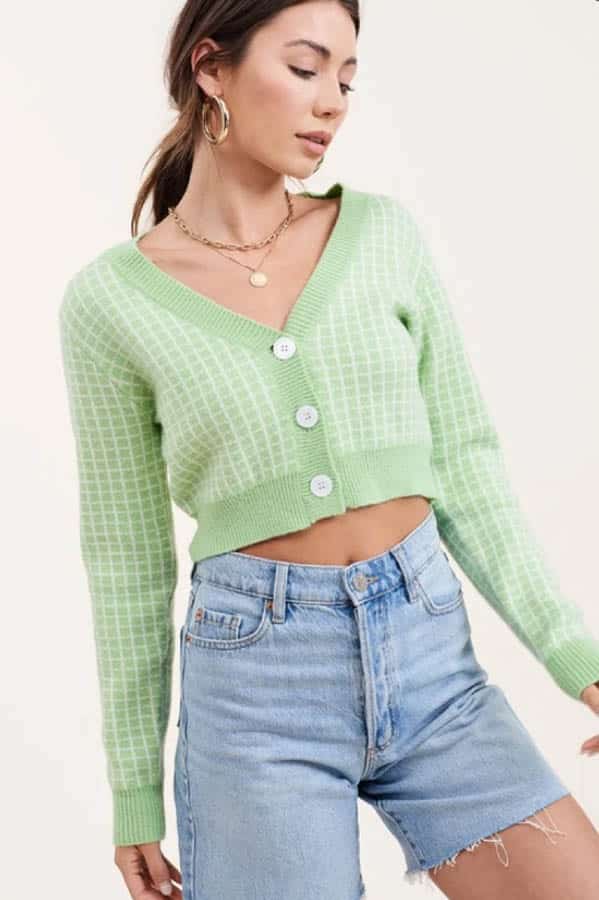 Neon green has come a long way from the '80s. Today's neon is softer and infinitely more wearable. It's kind of amazing to slip into a modern neon piece and not hear Wham! songs playing in your head on repeat.
To add more softness to this bold hue, look for neon green with a rib knit construction. This crop, v-neck cardigan for $42 fits the bill. It has that vibrant green color, turned down just a bit thanks to the white plaid accent.
Wear this easy sweater with high-waisted jeans and sneakers on your casual days, or with a wide-legged pant and square-toed boots for a dressier feel.
Budget Fashionista Tip: Use the Coupert browser extension to save at 1000s of online fashion shops.
2. Royal blue
Navy is a winter staple, but its brighter cousin — royal blue — is just as versatile. You can team a relaxed-fit, saturated blue sweater with jeans, leggings, or a pencil skirt. Reach for standard denim, black, or grey bottoms when you feel like fitting in. Or, try a floral, pink, or light blue bottom to make a statement.
As for shoes, anything goes. A sneaker, tall boot, or ankle boot can anchor any pants outfit, while a kitten heel is a fashionable choice for a pencil skirt.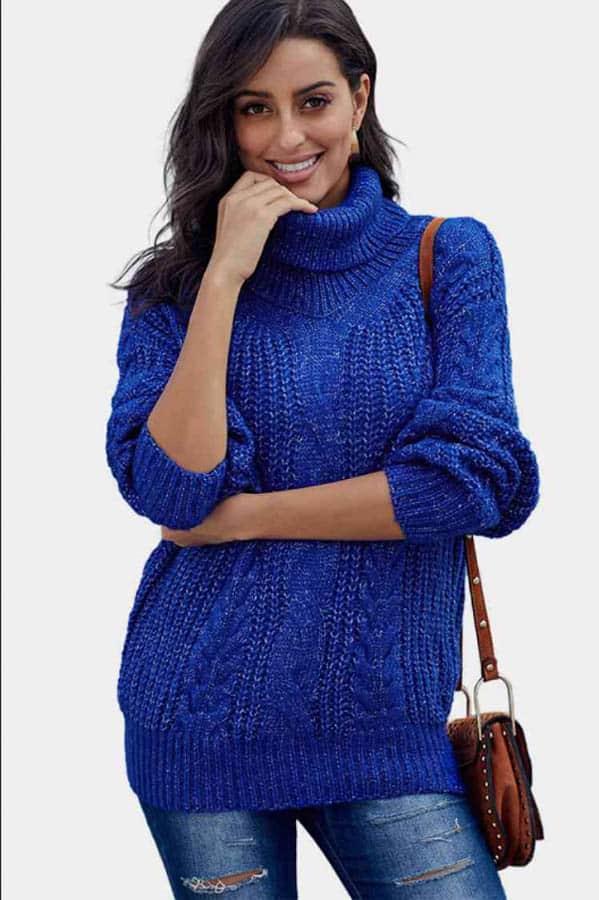 The turtleneck sweater shown here for $46 is available in sizes small to XXL.
3. Tie dye
Like neon, tie dye has matured into a pattern for fashionistas of any age. The trick to wearing tie-dye fashionably is to keep the rest of the outfit simple and neutral. Denim and solid blacks, whites, and greys are great companions for a fun tie-dye piece.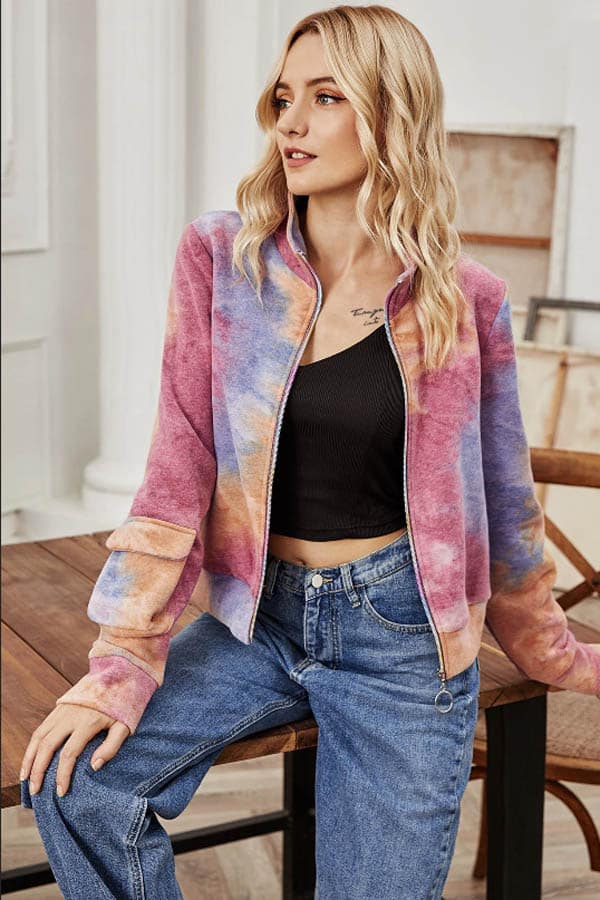 The zip front jacket shown here for $34 features a relaxed fit and funnel neck — a twist on athleisure I love. Made of a polyester/cotton blend, this light jacket lives in the weekend section of your wardrobe.
4. The pink-purple combo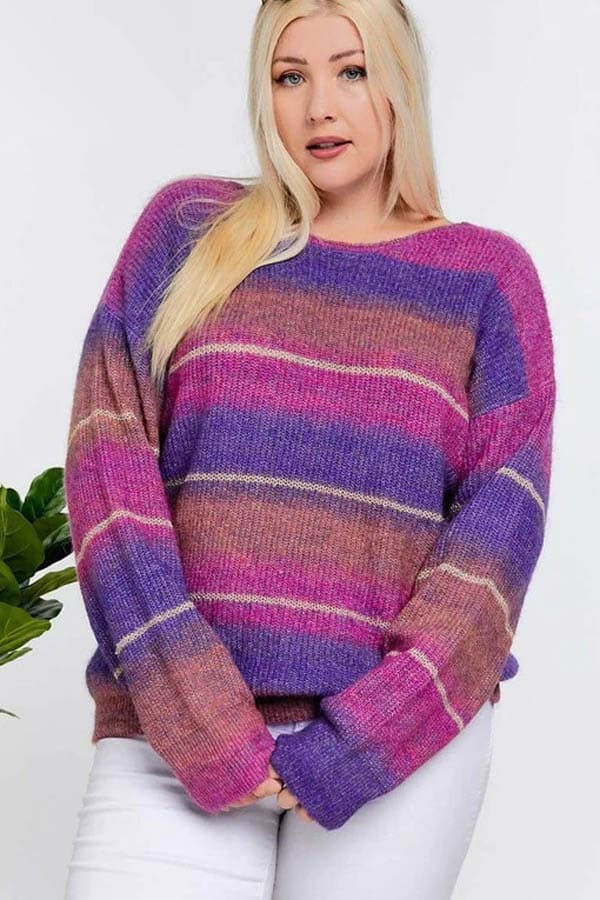 Why should toddlers have all the fun — we adults can wear pink and purple together, too! This plus color-blocked sweater with dolman sleeves for $49 manages the color mix perfectly with blurred stripes and a dash of cream to lighten things up.
You can balance out the youthful burst of color here with sophisticated accessories. Add a designer bag on your shoulder, a pair of loafers on your feet, and pull your hair back into a tidy bun, for example.
5. Red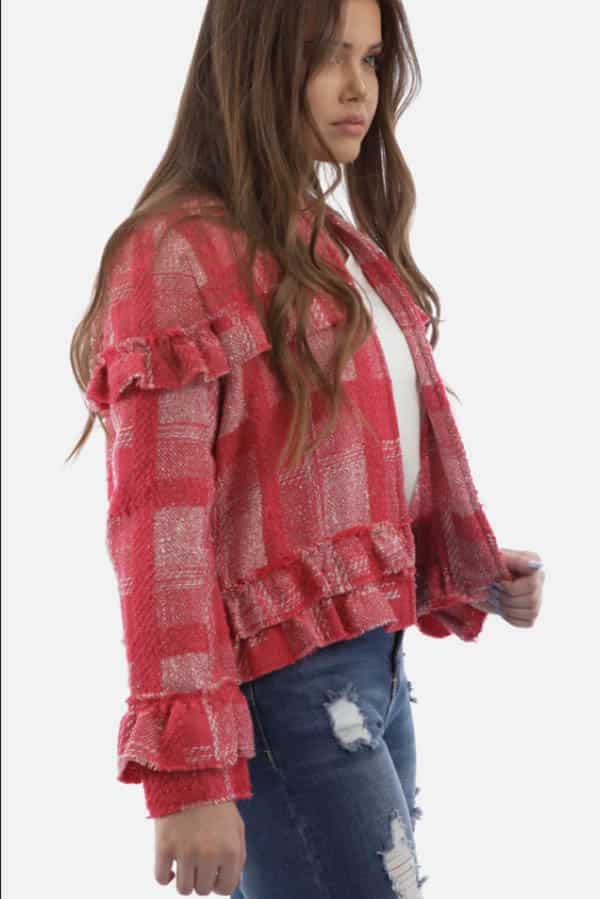 Sale alert! This red tweet ruffle blazer is currently discounted to $24 from $59 — and it fits right into the fall color theme. Thanks to the ruffles and bold red-and-white coloring, this piece is an outfit maker. You only need to add a t-shirt, jeans, and belt for a pulled-together, but low-maintenance look. You could also pair this blazer with black trousers, ankle boots, and white shell top for an enviable office outfit.
6. Golden yellow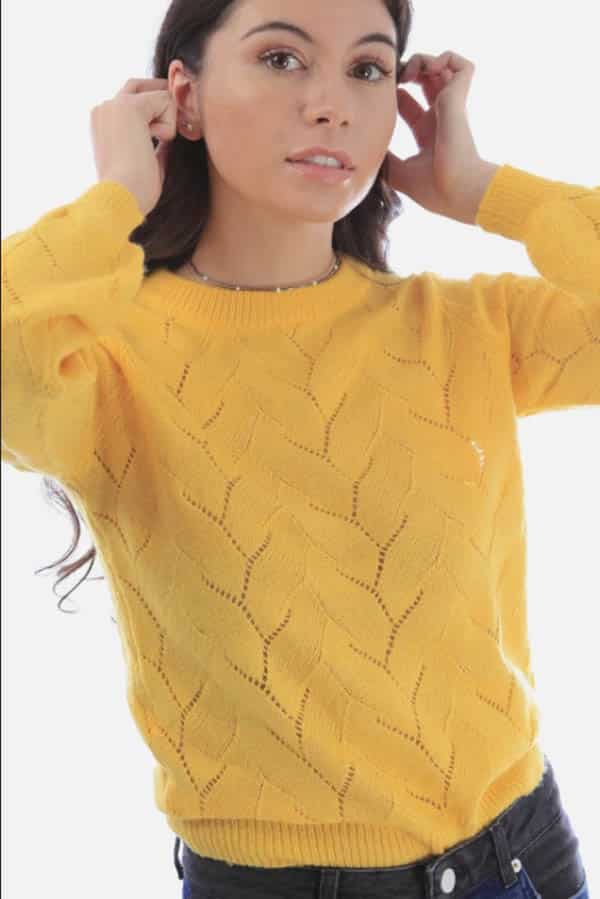 Another hot sale pick, this $18 golden yellow sweater will surely brighten the dreariest of winter days. The fit is relaxed, but the knit is lightweight enough that you could still wear the sweater tucked in. The pretty pattern has a foliage feel to it, which adds to the sweater's springtime vibe.
Pair this piece with garments that have structure, such as a blazer or a straight-leg trouser.
7. Fiery orange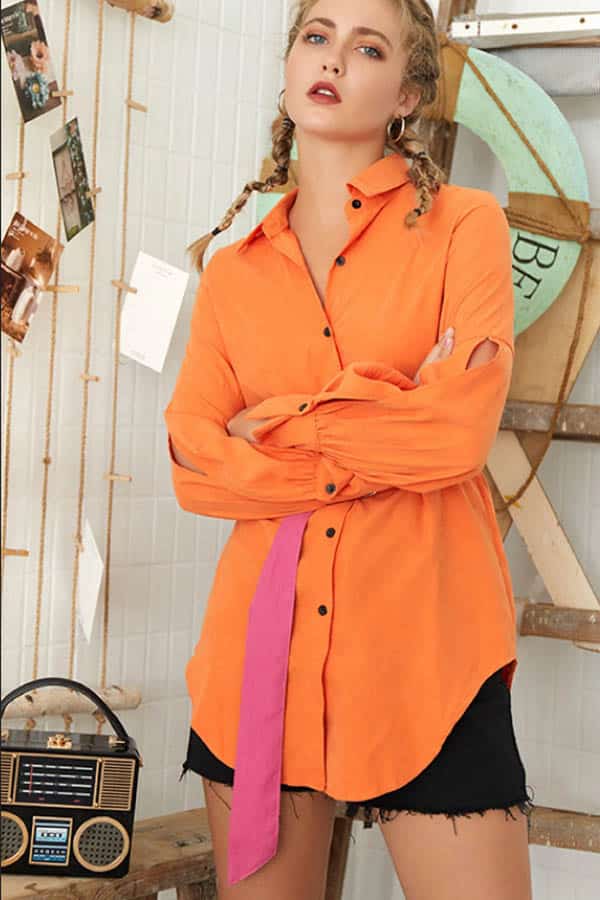 I saved the best for last. This bright orange top for $27 is a chic statement piece for fall. I love how it blends masculine and feminine elements beautifully. The manly collar and button-front contrasts with the pleating and open seams on the sleeves, curved hemline, and hot pink belt.
This top will look stunning with leggings or skinny pants in many shades of blue or green. You could even experiment with dark violet and brick red bottoms.
Turn up your fall fashion colors
The theme for fall fashion colors right now is go bright or go home. Have some fun turning up the colors in your fall and winter wardrobe. My guess is that you'll enjoy the variety, and inspire others to do the same.