9 Winter Coat Trends You'll Love Wearing • Budget Fashionista
Posted on |
What's shaking in coat trends this year? I see coats extending the rule-breaking vibe that fashion has had all year long. Expect bright colors, fun prints, and style details that add flair to traditionally serious silhouettes.
Said another way, coats are more interesting this year than they've been in the past. And that's a great thing. But don't take my word for it. See for yourself with these nine coat trends you're sure to see on the racks this season. (Note for the purists: My picks below include coats and jackets.)
This post may contain affiliate links. See our privacy policy.
9 winter coat trends to love
1. Fur trim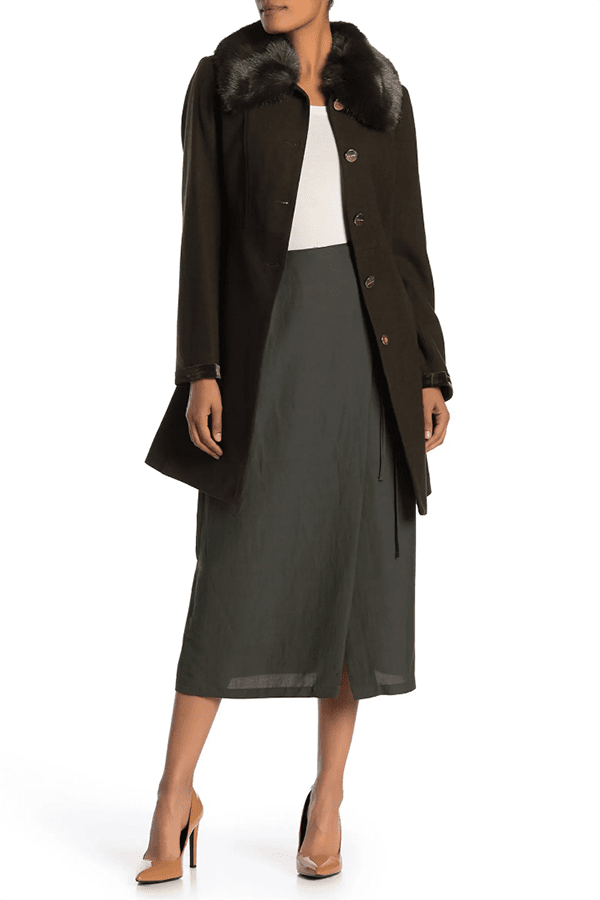 You will see a lot of fur detail on coats this winter. That's a normal feature on sportier styles, like the parka and moto. But you can also step into this trend with upgraded silhouettes. This wool coat (by Laundry by Shelli Segal) is an example. For a warm winter coat, it's sleek and classically stylish.
The faux fur collar trim is detachable and the cuffs are subtly lined with velvet. On the back, you'll find a playful, lace-up detail that ensures a great fit around your waist. You could wear this coat on work and play days, which makes for a lower cost per wear, too.
You can pick the coat up in forest green for $80, which is 75% off the regular price.
2. Parka style
Practicality continues to weave its way into fashion. First, there was athleisure, then dad sneakers, and now parkas. The parka's distinguishing features are insulation, a longer length, water-resistant shell, fur trim at the collar, and a hood.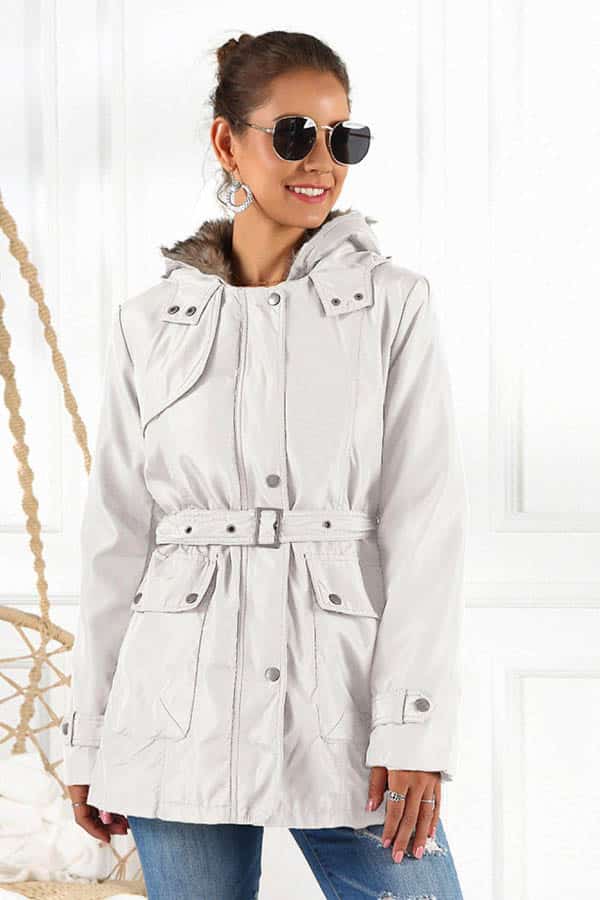 This year, more than ever, the parka's utilitarian personality is available in flattering silhouettes and colors other than black or green. The parka shown here, from Byrnie, comes in white — sure to brighten up your entire winter wardrobe. (And yes, it's OK to wear white all winter long!) A belted waistline cinches to give you shape and buttons add interest.
Plus, the price is right at $41.
Budget Fashionista Tip: Use the Coupert browser extension to save at 1000s of online fashion shops.
3. Recycled puffer
Puffers admittedly aren't the most flattering layers out there, but nothing beats their warmth. I like Monki Sue puffer from ASOS, because it's made from recycled materials and the color is something different for a casual winter coat.
With the shorter length and roomier fit, you'd match this coat with your skinny jeans or leggings and sneakers. Layer a sleek turtleneck sweater underneath and you have a chic casual outfit that's perfect for running around town.  
4. Shirt jacket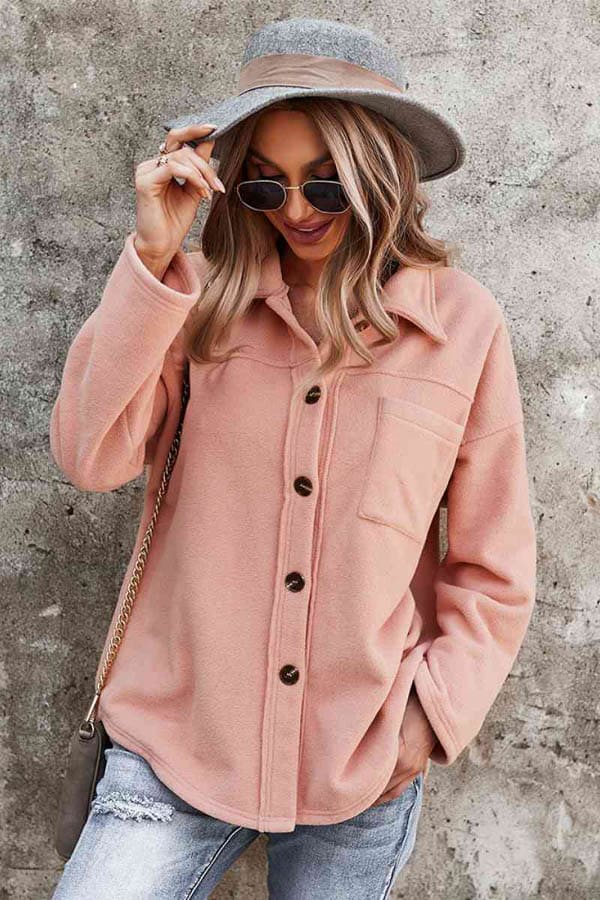 The shacket — styled like a shirt, warm like a jacket. Single-breasted with a relaxed fit, this pink piece can be worn as your top layer in the cold or by itself on more moderate days. If you don't like the pink for winter, you can choose black, beige, wine, or olive green instead. Add the shacket to your rotation for an efficient $28.
5. Collars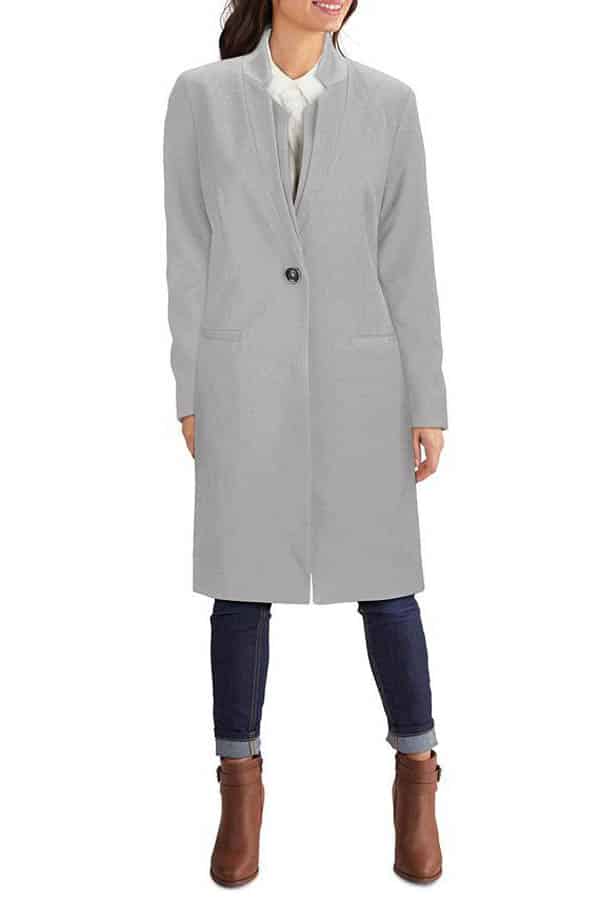 An interesting collar design can add a subtle flair to any coat or jacket. Kenneth Cole shows us how that's done with this inverted notch collar coat. A very simple silhouette, this single-button coat is both chic and understated. The knee-length hemline adds warmth, too. The polyester/rayon ponte-knit is machine-washable for ultimate convenience.
The Kenneth Cole trench is marked down right now to $135 at Macys.com.
6. Florals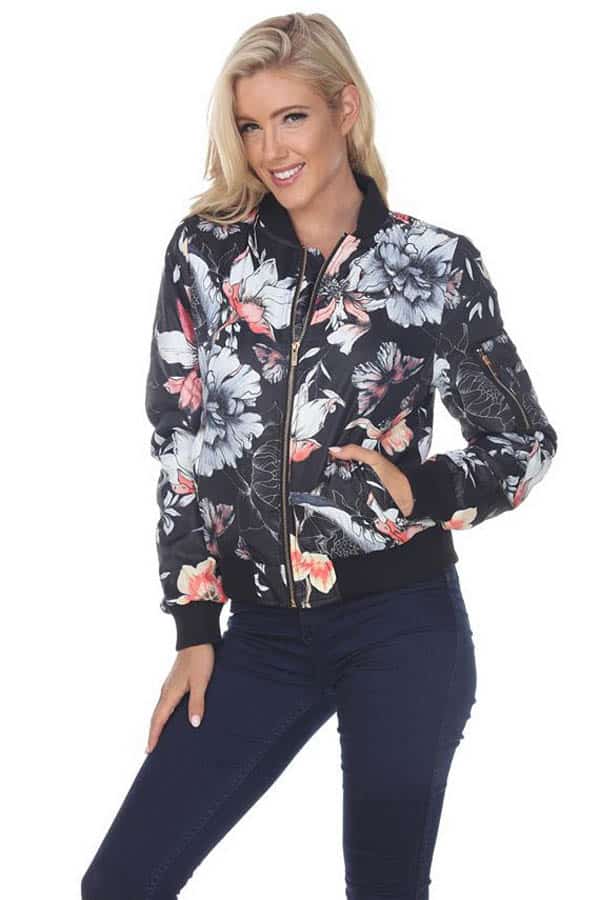 Florals in winter? You bet. Take a peek around your favorite online shops and you'll find floral trench coats, floral parks, and even floral bombers. My pick is the bomber because it brings femininity to the style's tough reputation — girly and tough is one of my favorite contrasts in fashion. One customer describes this piece as "fun and sassy," which is perfectly appropriate.
Macy's carries the floral bomber at a regular price of $66.
7. Plaids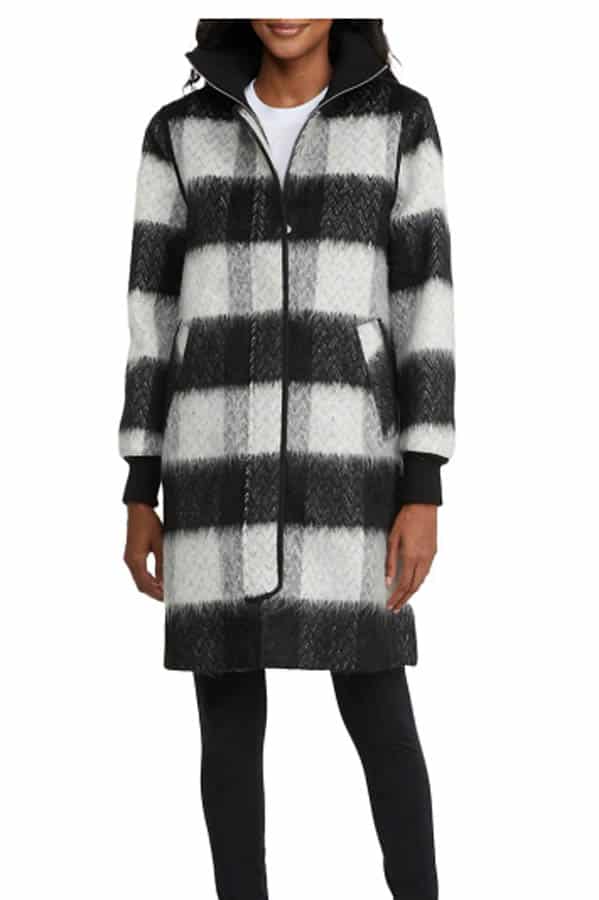 If florals aren't your thing, you have other prints available this winter. Plaids are particularly popular.  You can choose from a bold red-and-brown plaid or a more subtle grey check. I like this chevron-print coat because it's a different take on plaid and it has a plush texture. Ribbed cuffs and a long hemline will keep you warm, too.
You can pick up the chevron coat for $129.99, a 58% markdown, from Saks Off Fifth.
8. Raincoats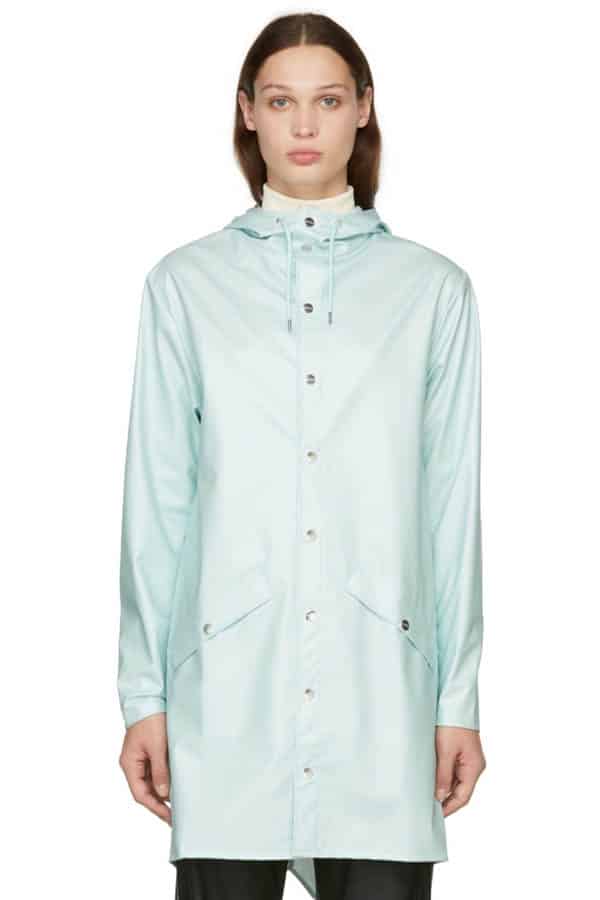 Raincoats have come a long way since the Morton Salt girl. If you want to stay dry, you're not stuck with bright yellow or even an A-line shape. Case in point: An ice blue raincoat by Rains with a straight fit keeps the water out without violating your own style code. Button it all the way up, pop the hood over your head and pull the drawstrings tight to protect your hairdo, too.
Get this raincoat from Ssense for $125. It's sure to be part of your rainy-day reserves for years to come.
9. Capes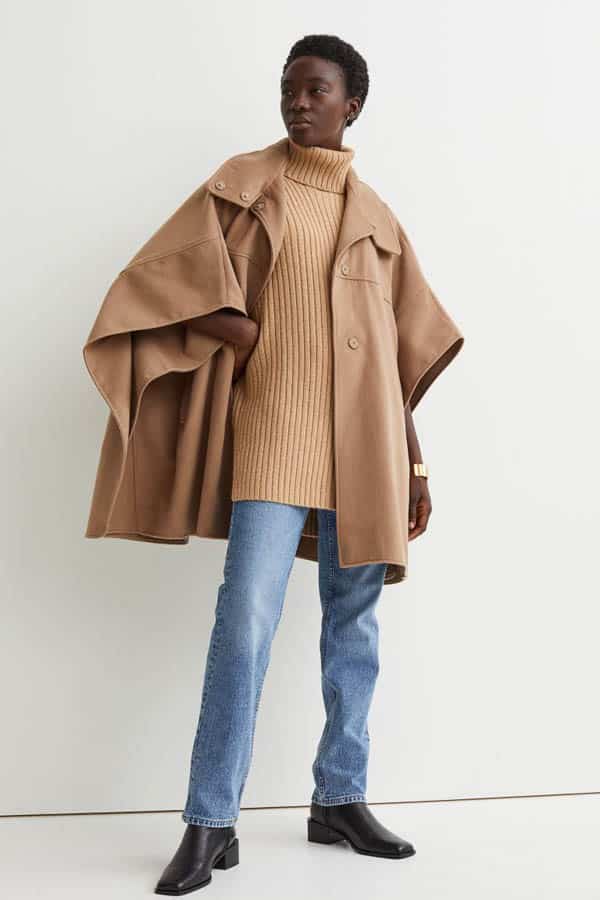 For those of you who reside in warm-weather climates like California, a cape may be the only coat you need. Capes have an elevated, formal feel to them — but they're still casual enough to go with jeans and a nice sneaker. I like the oversized cape layered over fitted pieces like, say, a tight-ish, turtleneck sweater with sleek arms. For more outfit tips, see our post on styling capes here.
You can get this cape jacket in three different colors from H&M for $50.