Apple announced the big winners of its third annual Apple Music Awards
Posted on |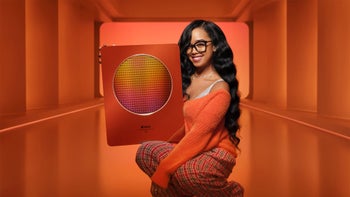 Artist H.E.R. with the Songwriter of the Year award.
Apple announced the winners of its annual Apple Music Awards for 2021. The Cupertino company is rewarding the artists that it sees have achieved the most in the music industry during the year. The Apple Music Awards were first conducted in 2019. They reward both globally acclaimed artists and also those popular in specific parts of the world. Let's break down who the winners are this year.
Apple celebrates diversity in music
Apple awarded a pretty diverse combo of music artists this year, for which we can only applaud the tech giant. The award for Global Artist of the Year went to The Weeknd. The popular R&B/Pop singer-songwriter has seen major success throughout 2021. The Canadian-born artist's last album called "After Hours" consists of massive hits like "Save Your Tears" and "In Your Eyes". The Weeknd's recently released single "Take My Breath" has also seen big success. The biggest winner from Apple's Music Awards is artist Olivia Rodrigo. She received three awards for Breakthrough Artist of the Year, Album of the Year, and Song of the Year. She received the latter award for her song "drivers license". Her debut album as a stand-alone artist "SOUR" was named the Album of the Year by Apple Music. It isn't surprising to anyone that the singer has also won the Breakthrough Artist award. Olivia Rodrigo has also released other massively successful radio-bangers like "good 4 u" and "deja vu". Rodrigo is thankful to Apple Music for giving her the chance to do the first interview about "drivers license" for their platform when the song was released.
"I did my first interview for 'drivers license' with Apple Music, and so much has happened since then, it's truly surreal. Thank you to Apple Music for these amazing awards." – Olivia Rodrigo
Singer-songwriter H.E.R. received the Apple Music Award for Songwriter of the Year. Like mentioned earlier, Apple also gave out Artist of the Year awards for specific regions. For example, singer-songwriter Wizkid received the award for African Artist of the Year. The Artist of the Year for France award was given to singer Aya Nakamura.
Japan's Artist of the Year is group OFFICIAL HIDE DANDISM (HIGEDAN). The Russian award was given to artist Scriptonite, while Germany's Artist of the Year got in the hands of RIN.
You can download the Apple Music app for both iOS and Android devices from the links below: