Apple Watch Black Friday deals
Posted on |
We may earn a commission if you make a purchase from the links on this page.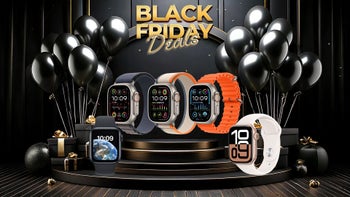 The wait is finally over! Today is the big day, and what better time to get yourself a new smartwatch than on Black Friday, right? Ever since its inception, Apple Watches have been one of the world's most popular and functional wearables despite their battery life struggles. Unsurprisingly, retailers are now using the
Apple Watch
SE, Series 6, and the Apple Watch Series 7, as doorbusters in their Apple watch Black Friday 2021 deals spree. 
Last year, the Apple Watch Series 5 joined the aforementioned models, as the likes of Amazon, Best Buy, and Walmart tried to clear their lingering inventory after
Apple
's official discontinuance of the 2019-released timepiece, and this Black Friday we're kind of getting the same treatment for the Series 6. Without further ado, here are the best Black Friday deals available on every Apple Watch model.
Apple Watch Series 6 Black Friday deals
The Apple Watch Series 6 might have been released one year ago, but it is still a great wearable device. It has an OLED display with an Always-On function, SpO2 blood oxygen measuring sensor, and plenty of WatchOS features that are fitness and connectivity oriented. With the release of its successor, the Watch Series 7, the older smartwatch should see some significant discounts as its last hurrah during Black Friday 2021. Actually, if you don't mind buying a refurbished device, there are some sweet deals on the Watch 6 (both for the GPS only and GPS+Cellular models) at Best Buy and Amazon.
Apple Watch SE Black Friday deals
The Watch SE was also released last year, and just like the Series 6, it hasn't aged a bit. The affordable Apple smartwatch might lack things like an Always-On display and a SpO2 sensor, but it still comes with all the software features and apps of the Series 6. It seems that the watch is temporarily out of stock on Amazon but you can still get it at Best Buy and Target, it's $60 off for the 40mm GPS model. The sporty Nike SE is also discounted.
Apple Watch Series 7 Black Friday deals
We move on to the newest Apple Watch family member – the Series 7. The new smartwatch comes with a bigger and better screen, better processing power, and improved health and fitness tracking capabilities. Even though we don't expect significant discounts during Black Friday 2021, there are some minor deals that can get you the Apple Watch Series 7 a few bucks cheaper. All the Amazon deals are currently expired but watch this space as we expect a swift restock.
Apple Watch Series 5 discounts
The Apple Watch 5 is a rarity but this doesn't mean there are no deals on this model. Right now the 40mm version is heavily discounted on Amazon, and you're getting the fancy Milanese Loop too. There's another deal at BestBuy on the Watch 5, this time around no fancy wristbands. But you can get the watch for just $219.99!
Apple Watch Series 3 Black Friday deals
Last but not least is the oldest Apple Watch in production. The Watch Series 3 is a good smartwatch for those who don't want to spend lots of money on a wearable device. It still uses WatchOS' latest version, which means that it has most of its much more expensive watch relatives' features and apps. The Apple Watch Series 3 deals are on – Best Buy is running a great discount on both the 38mm and the 42mm models.