Are color-changing phones the next big thing in smartphone design?
Posted on |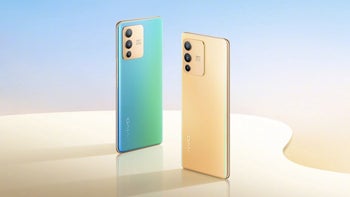 Remember those color-changing car models you had as a kid? Well, phones are starting to get the same treatment! The recently announced Vivo V23 series features a special Fluorite AG Glass that can change color when exposed to direct sunlight for a couple of minutes.
The special color-changing capabilities are reserved for the Sunshine Gold color variant, which can shift its hue to teal-green. There's a conventional Stardust Black option that stays black no matter how many photons you throw at it.
How does it work?
Unlike your old Matchbox collection, the technology (or should we say chemistry) behind the color-changing capabilities of the V23 is different. The car models, and some fancy mugs that change color or show interesting decals when filled with a hot beverage, use something called Thermochromic Pigment.

As the name suggests, it's a pigment that changes color depending on the temperature. The paint used in the Vivo V23 series is a Photochromic Pigment – and yes, you've guessed it right – it is activated by the photons in the light. The mechanism behind both processes is quite complicated and involves the materials changing their reflective properties.
Any other color-changing phones out there?
Surprisingly, the V23 is not the first Chinese phone to be able to change its color. Oppo launched another model a year ago called the Oppo Reno5 Pro+ Artist Edition, which boasted an electrochromic back. This one is again different from the aforementioned color-changing methods.
Electrochromic paint changes properties when an electric current passes through it. The Reno5 is able to change from Silver to Blue just by tapping on its back. The phone launched at the beginning of 2021, and famous tipster Digital Chat Station suggested that more Chinese manufacturers will employ the electrochromic solution in the future.There are a bunch of more popular models that feature interesting color solutions – such as the Samsung Galaxy Note 10 Aura Glow model, and some Huawei P-series models, but they use a radically different method of just refracting and reflecting light in a different way depending on the angle it falls on the back of the phone.
Are color-changing phones the future?
They could be but there are several obstacles before our phones turn into chameleons. First, most people use cases with their phones and this kinda defeats the purpose of having an awesome color-changing back on your phone.
Second, some of these technologies have a limited lifecycle of changing colors – electrochromic solutions for example offer several thousand changes before the back returns to its permanent color state. Photochromic and thermochromic pigments also have a lifespan, usually around a year before they start losing their properties.Third, it's a question of demand – people might not be so keen on their phone changing color all the time. A smartphone is a fashion accessory nowadays, and some people want it in a solid color to match their style. Business users also don't need their serious-looking company devices turning pink all of a sudden.
So the idea is quite neat but the potential applications are somewhat limited. Couple this with the drawbacks of the technology, and you'll see why there aren't many models like the V23 out there.
Of course, we might be totally wrong here, and in a year or two color-changing phones might be the next big thing. At the moment though, they are just a fun little peculiarity. Why don't you tell us what you think? Color-changing phones – hot or not?
Vivo V23 series quick specs
Back to the phones that inspired this article. The V23 series consists of two models – the vanilla V23 and a Pro version. The Vivo V23 Pro features curved glass on the front and back, and it's powered by a MediaTek Dimensity 1200. There are two memory configurations – you can get it with either 8GB or 12GB of RAM, and 128GB or 256GB storage respectively.The Pro also comes equipped with a 6.56-inch 1080p AMOLED, running at 90Hz, a 4,300mAh battery and the phone supports 44W fast charging. There are five cameras in total on the V23 Pro – two selfie snappers, and three on the back. The selfie pair consists of a 50MP wide camera with eye autofocus support, and an 8MP ultrawide camera, while the triple system on the back is a 108MP main, 8MP ultrawide, and 2MP macro combo.
The vanilla model comes with a smaller 6.44-inch screen with 1080p resolution, although it's still a 90Hz panel. Under the hood, there's a Dimensity 920, and the storage options are the same as those on the Pro variant.
Sadly, the V23 series won't make an appearance stateside, the lineup already launched in India, and a global release is expected shortly. Nevertheless, the color-changing feature is a fresh design idea, and other brands could pick it up and use it on more models in the future.
You may also find interesting: