Best AT&T Black Friday 2021 deals
Posted on |
We may earn a commission if you make a purchase from the links on this page.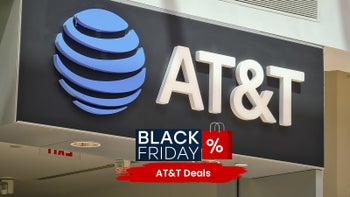 The Black Friday 2021 event is officially going to be on November 26th, but we can expect AT&T to start making offers earlier. This article will help you with your Black Friday tech shopping at AT&T, whether you're already an AT&T customer or are looking to become one.
Let's look into the best AT&T Black Friday offers we can expect in 2021, based on what we saw from the provider last year. And once the event nears, stay tuned for the best Black Friday 2021 AT&T deals on phones, tablets and wearables right here!
Jump to section:

AT&T Black Friday deals on iPhones

We can expect that the
iPhone 12
series will be getting involved in AT&T Black Friday deals, as they were last year. In addition, by the time Black Friday 2021 comes around, the new
iPhone 13
series would have come out, and those too will most likely be involved in trade-in and other deals.
Last year the iPhone 12, iPhone 12 Pro,
iPhone 12 Pro Max
and iPhone 12 mini were up to $700 off at AT&T on Black Friday. Those offers relied on trading in an older phone, and the resulting discount was applied in bill credit, so we expect something similar in 2021.
AT&T Black Friday deals on Samsung Galaxy phones
AT&T has already kicked off with its early Black Friday deals on Samsung Galaxy devices. You can save really BIG on some of Samsung's hottest phones right now, including the
Galaxy S21 Ultra
, Galaxy S21, as well as the foldable Z Flip 3 and Z Fold 3. Check out the current deals right below.
AT&T Black Friday deals on other phones
It's not always just iPhones and Samsungs, or at least that's what we're hoping. AT&T has will certainly lots of nifty deals on non-Apple or Samsung devices, and here are those deals so far:
AT&T Black Friday deals on smartwatches
AT&T is selling the fresh new Apple Watch Series 7 as well as the Galaxy Watch 4 Classic. Being the top wearables these days, it is quite possible that AT&T will discount these.
AT&T Black Friday deals on tablets

Black Friday AT&T sales are not only on phones: they will include a variety of accessories, such as wearable devices and earbuds.
Last year AT&T had offers on both the affordable Apple Watch SE and the Apple Watch 3. Additionally, if you're not into Apple Watch, AT&T had a nice BOGO deal on the Galaxy Watch 3 – if you buy two and add at least one line, you could get up to $450 in bill credit for the second Galaxy Watch 3, which could make a fantastic present for a friend or family member.
As far as earbuds were concerned, all AirPods models were about %20 off on AT&T for Black Friday, and likely will be this year too.
And as for tablets, namely AT&T Black Friday iPad deals, the provider sold the 7th-gen Apple iPad for $265 off until it ran out of stock.
Samsung Galaxy tablets like the
Galaxy Tab A 8.4 (2020)
and
Galaxy Tab S5e
were heavily discounted at 50% off, meaning a good $230 discount for the S59. So along with iPad discounts, we can again also expect solid AT&T Android tablet deals on Black Friday 2021.