Best Samsung phone deals on Cyber Monday 2021
Posted on |
We may earn a commission if you make a purchase from the links on this page.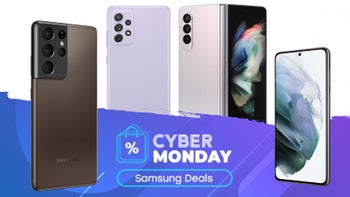 Samsung is the world's top smartphone maker, and the most sought after Android phone brand during shopping events like Cyber Monday, which happens to be today! As if to entertain our cyber lust, Samsung's deals are changing tack for Cyber Monday with extra discounts added.
If you want to get your hands on the new, cutting-edge
Galaxy Z Fold 3
or the flagship
Galaxy S21 Ultra
for a cheaper price, you're in the right place! Below we have for you the best Cyber Monday Samsung phone deals available now.
You may also find interesting:
Samsung Galaxy Z Fold 3 Cyber Monday deals
If you want to be on the cutting edge of mobile technology, now is arguably the best time of the year to get Samsung's newest folding phone – the Galaxy Z Fold 3. Also perfect for productivity on the go, this phone can unfold into a tablet and supports the S Pen stylus! 
Samsung Galaxy S21 Ultra Cyber Monday deals
If you're hunting for one of the best, big Android flagships, the Galaxy S21 Ultra is definitely worth your consideration. Especially now that it's cheaper for Cyber Monday! Here are the best deals for the S21 Ultra available now:
Samsung Galaxy S21 Plus Cyber Monday deals
The Galaxy S21+ is the perfect middle ground in Samsung's newest S21 series. You can get the S21+ for cheaper on Cyber Monday, and, as usual, Samsung and Best Buy have the greatest deals:
Samsung Galaxy S21 Cyber Monday deals
Looking to buy Samsung's Galaxy S21 for less this Cyber Monday? You can save up to $800 on it with eligible trade in! Here are the best available S21 deals right now with some trade-in offers netting it for free:
Samsung Galaxy S20 series Cyber Monday deals
The Galaxy S20 series is still a fantastic choice in 2021! Looking to pick an S20 for a lower price than the usual? Cyber Monday is the time do so, and you even get a gift from Samsung – the company's newest true wireless earbuds! Check out the offers:
Samsung Galaxy A series Cyber Monday deals
If you're not aiming for a flagship phone but just want a solid, well-priced one from Samsung, the A-series are definitely worth checking out! Especially while we still have those great deals on the Galaxy A72 and A52 directly from Samsung with trade-ins that are more than generous: