Best tablet deals on Black Friday 2021: what to expect
Posted on |
We may earn a commission if you make a purchase from the links on this page.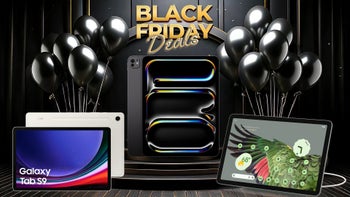 Just like every year, we fully expect the fall and winter shopping season to be kickstarted by
Black Friday 2021
 — a major shopping event honored by pretty much every retailer, big and small. We expect a flurry of great discounts and there are surely going to be more than a few deals for tech gadgets — be it smartphones, smartwatches, tablets, or anything else that tickles your fancy.
Black Friday tablet deals:
Which Black Friday tablet deals to look for in 2021?
Your best bet to get a real bargain is to hunt for a flagship tablet that's a bit older now — especially if it has had a successor released recently. Stocks need to be cleared, so Black Friday's best tablet deals usually hit the models that need to go harder. Conversely, you may want to look for discounts on specific accessories for your tablet — Apple Magic Keyboard and Pencil, or a Samsung Keyboard Folio.
iPad deals on Black Friday
Black Friday tablet deals: iPad Pro
Apple's laptop-replacing iPad Pro line usually gets about $100-$200 price slashes over at major retailers. Based on past experience, we expect limited numbers of the base iPad Pro 11 (2021) to be available for something like $650, while the base iPad Pro 12.9 (2021) could hit $950 for limited supplies. Of course, we will follow retailers and carriers closely for those type of deals.
However, we have a 2020 generation of the iPad Pro 11 and iPad Pro 12.9 that's still stocked and the tablets are still very relevant, very usable, and perfectly good for both work and play. In fact, Best Buy currently has a clearance sale on the iPad Pro 2020 series and you might want to jump on that — who knows if supplies will last until Black Friday. If they do, we expect deep discounts on the iPad Pro (2020), which we would recommend you jump on.
iPad Pro (2020) deals right now
We might also just see Apple's latest iPad mini 6 on modest discounts, although maybe not by too much, as the newest generation of the iconic iPad mini only recently launched. 
Best Black Friday tablet deals: Apple iPad Air
The Apple iPad Air (2020) a.k.a. iPad Air 4th gen is also a device worth watching. It doesn't have a 120 Hz screen like the Pro models, but it still supports a Magic Keyboard and Apple Pencil 2. Plus, it has a stereo speaker setup (two speakers, top and bottom). It's basically been called the "iPad Pro killer" and there's some merit to that — it costs $600, but delivers a very solid base experience, similar to the one you get on an iPad Pro 11. If we saw an Apple iPad Air 4th gen to be $200 off at Black Friday… we would be hard pressed not to jump on that. Also, keep an eye out for discounted Magic Keyboards and Apple Pencils alongside your preferred iPad model!
Best Black Friday tablet deals: iPad 10.2
The base iPad is already a pretty good deal, starting at $330. During sales events, it usually sheds about $30 off that price-tag. Though, last year, Verizon had the cellular iPad 10.2 for $260 off, bringing it down to $199.99. Much lower than the Wi-Fi only version usually goes for, so that was a nice deal. Fingers crossed for another one of those.
The iPad 10.2 does not support a Magic Keyboard. It does, however, support Apple Pencil 1 and the good old Keyboard Folio, so it still kind of delivers that hybrid, almost-laptop experience… kind of (the Keyboard Folio is bad, sorry). 
Samsung Galaxy Tab deals on Black Friday
If you're not into iPads, worry not. Black Friday and Cyber Monday 2021 will surely have many a great 
deal on Samsung tablets
.
Samsung Galaxy Tab S7+ Black Friday deals
Samsung's Tab S7+ is still the best tablet the company sells — it hasn't been refreshed in a while and is getting a bit long in the tooth nowadays. So, it goes without saying, we wouldn't recommend you buy it at the full MSRP, which is $849.99 at the moment. But we do expect there to be some pretty good
Galaxy Tab S7
+ deals come Black Friday, so if you are dead set on grabbing Sammy's big tablet — maybe wait a couple of months.
Samsung Galaxy Tab S7 Black Friday deals
The Tab S7 is the Plus' little brother, which really gets downgraded in the display department — not so much because of the size, but because it uses an LCD panel instead of an AMOLED. Which was a huge disappointment, considering Samsung's devices usually have top-notch AMOLED screens. But hey, if a smaller size is a priority for you — be on the lookout for Tab S7 deals this Black Friday.
Samsung Galaxy Tab S7 FE 5G Black Friday deals
The Tab S7 FE is a weird beast — instead of getting a Galaxy Tab S8 this year, Samsung instead launched this. It's an upper-midrange tablet which supports 5G connectivity. Presumably, Samsung wanted a tablet with 5G to tie users over until they smack us in the face with something incredible. So, if you need that fast data speeds on your tablet, the Tab S7 FE 5G is the only Samsung tablet you have to turn to right now.
Samsung Galaxy Tab A Black Friday deals
The midrange 128 GB
Galaxy Tab A
10.1 (2019) was only $199 at Best Buy, the
Galaxy Tab A 8.4 (2020)
was available at AT&T for $4/month or $120, and the Galaxy Tab S5e was up for only $240 at AT&T, too.
Microsoft Surface Pro Black Friday deals
Microsoft hasn't been shy to discount its Surface Pro tablets — as recently as
Labor Day 2021
, we saw the
Surface Pro 7
bundled with a keyboard folio for $800. Not a bad deal, considering these tablets run Windows 10 — a perfectly portable tablet-laptop hybrid that receives way less attention than it deserves.
Best Black Friday tablet deals: Amazon Fire
Amazon traditionally drops the prices of its own devices significantly during major shopping events — Echo Dots and Fire tablets galore! Fire tablets are usually affordable as they are, but during Black Friday 2021 they turn into straight-up bargains for anyone whose looking for a base tablet to watch shows and read books on. These do sell out fast, so be aware.
Cheap Cyber Monday and Black Friday tablet deals
Devices under $200 are often limited to Amazon Fire tablets, but Cyber Weekend is a great time for deal hunters looking for more options. Last year, retailers like Best Buy and Target were offering great deals on lesser known value picks, so you could pick up a tablet starting at $79.99.
These are some of our expectations ahead of this Black Friday for the best tablet deals, but like every year, there are always surprises in store. You could be lucky and get your dream tablet on a huge discount this November, or you might see an alternative mouth-watering deal that could change your mind. It's always a good idea to go in prepared, just as it's also good to greet Black Friday with an open mind to explore the options that might unexpectedly open up. There can also be bundle deals sometimes, if you and a friend are both looking for tablet deals together.