Classic Accessories We All Need • Budget Fashionista
Posted on |
Have you ever looked inside your closet and felt that deep-pitted sense that something is missing? Like, certain fashion basics that you can't quite name? If this happens regularly, you probably don't need new clothes — you need to update your accessories instead.
For most budget fashionistas, the accessory is the closet's hardest-working fashion basic. When you have the right accessories on hand, you can create a stylish outfit with the most mundane garments. It could be that the only thing standing between you and an incredible wardrobe is a fun and funky vintage piece or a handbag that's perfectly versatile.
Even better, leaning on accessories to carry the weight of your style saves you money. This is because you can wear the same accessory multiple times in a week. So, even a pair of pricey designer shoes should have a lower cost-per-wear than a designer blouse you'll only wear once a month.
This post may contain affiliate links. See our privacy policy.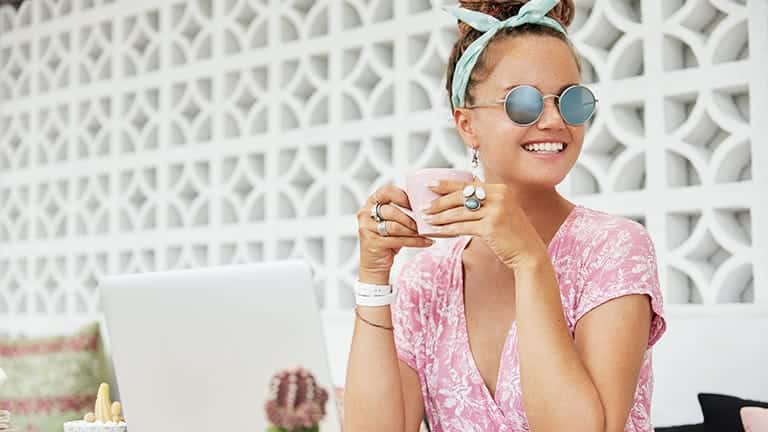 Here's a look at six must-have accessories. (If you happen to have them all, props to you — you're a style icon.)
6 must-have fashion basics
1. Signature jewelry
Assuming you are older than 23, you should have one or two signature jewelry pieces that you wear regularly. Having a go-to piece streamlines your morning routine and reinforces your personal "brand" with your social circle (IRL or online).
Budget Fashionista Tip: Use the Coupert browser extension to save at 1000s of online fashion shops.
Your signature piece can be a bracelet, stud earrings, a necklace, or ring — but it's normally something made of gold, silver, or platinum. This is because costume jewelry doesn't usually hold up to the demands of everyday wear.
You can shop secondhand jewelry to keep your investment down or you can raid grandma's jewelry box. Either way, if your chosen piece is a precious metal, it should have a long life ahead. It could even become a heirloom piece that you'd pass down to loved ones in the future. That definitely helps with cost-per-wear!
2. Shoes that last
We've all bought a cheap pair of shoes that only last a season. Those have their place. But I'm an advocate for a good pair of classically styled shoes, even if the price point is on the high side.
I'm talking about a pair of Gucci loafers or Sergio Rossi booties. As long as the style isn't too trendy, these should stand the test of time (and also become part of your signature accessory collection).
3. One or two handbags
A timeless handbag that you're entirely in love with boosts your confidence no matter what you're wearing.
Most of us like to have at least two stylish handbags — a roomy daytime bag plus a more elegant nighttime piece. If you can find one bag that will do both jobs, awesome.
A designer bag has more flair than a no-name piece, but resist the urge to buy counterfeits. You can easily find designer handbags on sale at T.J. Maxx or Marshalls. You can also find no-name or mid-range bags that are very stylish. Either option is better than a fake.
Try Etsy for something unique or stalk Macy's sales for a more classic style.
4. Sunnies that flatter
A while back, big, bold sunglasses were my signature accessory. I never left home without a pair on hand. You obviously don't have to take your sunglasses that seriously, but it's nice to have a pair of two that truly flatter your face. Plus, dark lenses can hide the fact that you didn't feel like applying mascara and liner on any given day.
I have some tips on identifying your face shape here. You can also find online tools that will take a picture to identify your face shape — the try-on feature at Zenni Optical is an example. Once you know your face shape, you can easily find flattering sunglasses at nearly any price point.
5. Fun scarves
Another fashion basic is the lightweight, colorful scarf. This piece will serve you well in any climate. When it's too hot to tie something around your neck, you can wrap a scarf into your hair or onto your handbag for an extra style boost. In the winter months, reach for a fun scarf instead of a necklace to add warmth and color to your sweaters and long-sleeved tops.
You can find lightweight scarves on Amazon for around $10 a piece.
6. For bonus style points, the weekender
If you are a jet-setting fashionista, you'll appreciate having a stylish weekender bag available. An ugly (or even boring) travel bag is an outfit killer. Of course, this is coming from someone who sometimes wears heels to the airport — so you may think differently.
Still, I think you'll find that an attractive weekender bag does add something special to any trip. Look for something with a durable zipper and strap, that you can hold at your side or over your shoulder. It should be large enough to stash two outfits plus your beauty regimen, but small enough to fit in the overhead on a plane.
Vera Bradley is known for floral weekender bags, but I prefer the Beis and Everlane weekenders. My own Everlane weekender has been all over the country in the last five years, and shows no wear and tear.
So there you have it — fashion basics that can revive your wardrobe and quiet that feeling there's something missing from your closet. Have fun mixing and matching these classic accessories to create totally new looks!