Easy Jewelry Styling Tips You'll Love  • Budget Fashionista
Posted on |
A few easy jewelry styling tips can overhaul your whole sense of style. Seriously!
I harp on this (maybe too much), but style doesn't have to involve huge price tags and designer labels. You can put together a head-turning outfit with jeans and a t-shirt from Target if you know how to work your accessories. And jewelry is an accessory that you can personalize to reflect your tastes — much more so than a handbag or a pair of sunglasses.
This post may contain affiliate links. See our privacy policy.
Jewelry can be subtle or bold. You can rely on one piece or several. Like puzzle pieces, your jewelry choices work together to deliver a look you love.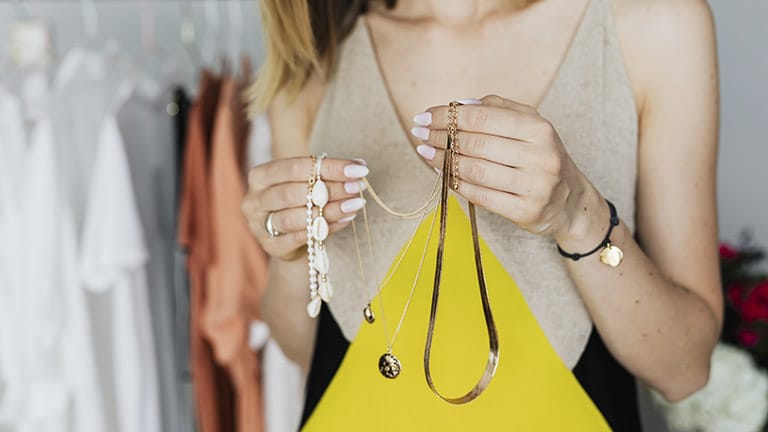 Feeling inspired? Read on for five jewelry styling tips you can use to create feed-worthy looks with confidence.
1. Stack necklaces and bracelets
Necklaces and bracelets are easy additions to any outfit. Plus, they come in any shape, size, color, texture, or length you desire — and at a range of price points, too.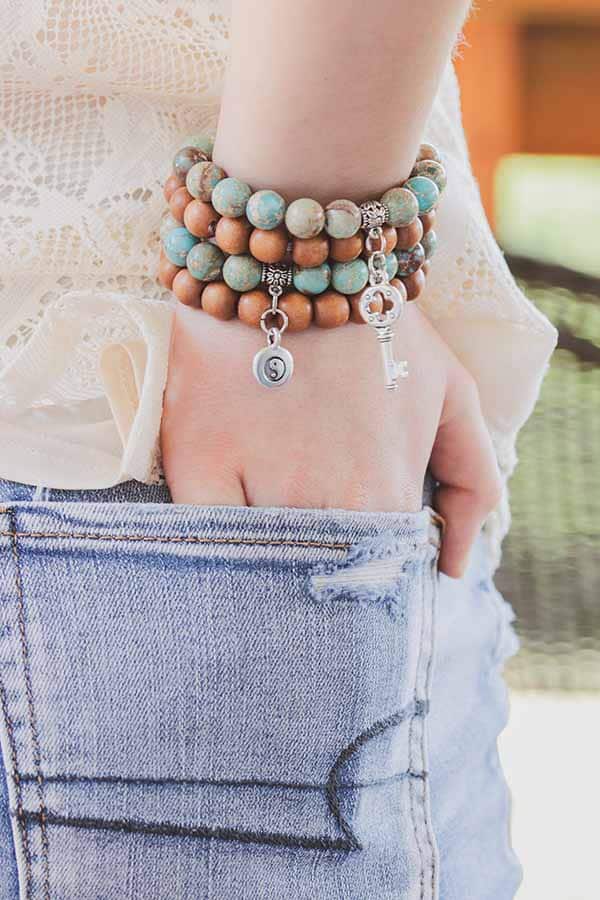 Layering your bracelets or necklaces is a simple style hack that upgrades any casual outfit. Follow these tips to do it right:
Stick with solid-colored shirts when layering necklaces. Patterns along with a necklace stack can be overwhelming.
Layered necklaces look best with a deep v-neckline or a turtleneck (or mock turtleneck for the warmer months). If you're adding necklaces over a turtleneck, stick with shirt fabrics that don't snag or grab easily.
Likewise, bracelet layers stand out over a bare arm or atop a long sleeve.
Combine simple necklace styles when layering. Think delicate chains and one, maybe two petite pendants. (Your chunky statement necklaces don't need to be layered.)
Bracelet stacks can include one chunky element if that's your style. You can add subtlety by choosing complementary pieces in the same color family but with different textures. For example, you might pair a hammered finish with a smooth one.
You can experiment with colors and textures in a bracelet stack, more so than with necklaces. Try mixing stone pieces with metal or combining different metal finishes.
Wear your bracelet stack around at home before you head out for the day. Consider it a test run, so you can decide if your bracelets are too loud or irritating on your arm.
2. Wear original jewelry pieces
One of the best ways to stand out in a crowd is to wear custom jewelry designed by skilled artisans. If you are itching to splurge on yourself, you would work with a jewelry to design a signature, made-to-order piece. You can get anything you can imagine from statement necklaces to earrings to anklets. Ideally, you'd want something you can wear daily to justify your investment — a ring or a versatile necklace, for example.
Alternatively, you could invest in lower-cost, custom pieces from Etsy.
3. Statement earrings are bold and beautiful
No doubt you've heard of the statement necklace, but earrings can make a statement too. Worn right, a pair of perfectly crafted earrings can highlight your face. Bold colors, large designs, even custom-crafted dangling parts can draw all eyes to your face.
Use a bold earring to spruce up a date night outfit, bring attention to yourself during a work meeting, or even command the confidence in the next PTA meeting you have to sit through. The trick is to wear statement earrings as your only piece of jewelry. And, since the earring sits so close to your face, keep your makeup muted.
4. Fab up those fingers
Rings go with any outfit. They can work exceptionally well when a bracelet isn't an option — say, with shirt that has a dramatic sleeve.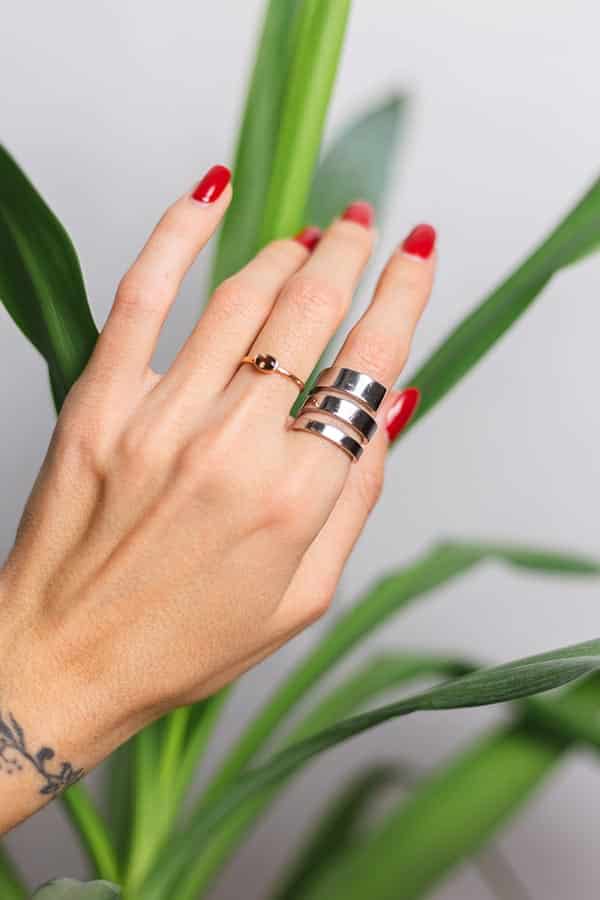 You can wear one dazzling ring or stack smaller rings, depending on the occasion. Experiment with rings on your pinky, pointer, or thumb, too. The thumb ring (or a spinning ring) can serve a dual purpose if you like to fidget.
5. Wear jewelry to match the occasion
As you do with your garments, choose jewelry that matches the occasion. You don't wear your best clubbing outfit to a funeral or a comfy, grungy thrift store find from a West Coast vacation to the office. Similar guidelines apply to jewelry. You might, for example, leave your statement pieces in the jewelry box for somber occasions and weddings (unless you are the bride).
You might also think about comfort considerations. For example:
Bangles at work can be distracting.
A necklace stack gets hot in the sun. It can also leave you with odd tan lines.
Don't wear rings or bracelets to a summer picnic if there's a chance you'll play some pickup volleyball.
You get the idea.
Use these guidelines to start experimenting more with jewelry. The more looks you try, the more you lock in on your favorite go-to jewelry styling strategies. In other words, as you gain confidence, you'll set your own rules.