Google Chat in Gmail now lets users call someone directly
Posted on |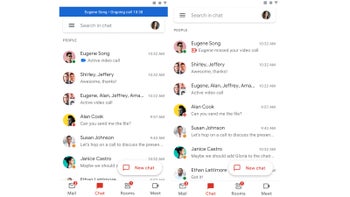 Google teased some upcoming features for the Google Chat in Gmail a few months ago but didn't exactly say when they will be made available to the general public. With less than a month left until the end of the year, Google revealed that the ability to ring someone directly using Google Chat in Gmail is now available on mobile.
Gmail users on Android and iOS can start or join meetings and audio calls from 1:1 chats in Google Chat within the mobile app. The new feature doesn't work on anything else other than 1:1 chats at least for the moment.
Simply select the phone or video icon in the top right cornet of a 1:1 chat to ring someone directly. Keep in mind though selecting "Join a call" from the Google Chat app will redirect to the Gmail app since this is where the call will take place.
To join a call, select the phone or video within the 1:1 chat. You should be able to see a banner of the person you're on a call with while on a call. Also, the call duration and a Meet icon are visible in the chat roster. Finally, the red phone or video icon within the conversation and the chat roster are used for missed calls.
The new feature is available by default on Android and iOS devices, but you'll need to install the latest version of Gmail. According to Google, the updated version of Gmail is now rolling out to users on both Android and iOS platforms, although it will take around two weeks to reach everyone.