How to Style Them 5 Ways • Budget Fashionista
Posted on |
Summer is the best time of the year. The sun is shining, the beach is calling, and there are plenty of parties just waiting to be enjoyed. All you have to do is find the right dress for the occasion and style it with confidence.
The first rule of styling summer party dresses is understanding the occasion and the dress code. As an extreme example, if you're invited to a ball, skip the bodycon and shop the best ball dresses you can find. You wouldn't want to be the only girl wearing a short cocktail dress when everyone else is decked out in floor-length satin and chiffon.
This post may contain affiliate links. See our privacy policy.
Of course, most of your summer soirees aren't going to require a formal gown. You're more likely to have brunch parties, cocktail parties, girls night out parties, and weddings on your calendar vs. balls. And that's great news. Because those less-formal occasions allow you more styling freedom. With well-chosen accessories, you can style your party dresses to reflect your own personal style — and make a statement, too.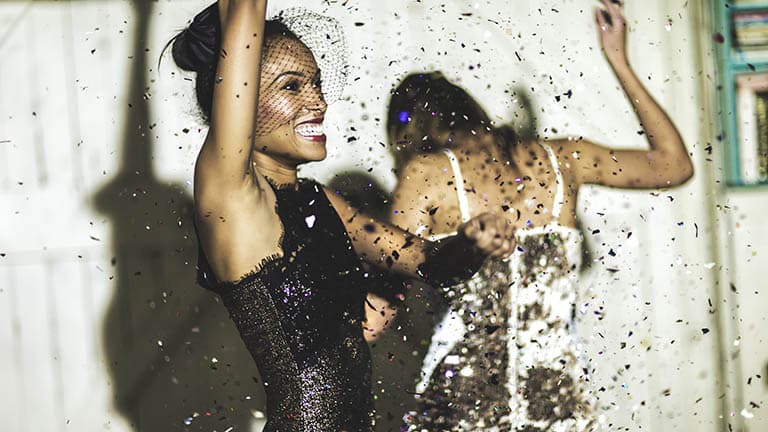 For your inspiration, here are five styling hacks to apply to your party outfits this summer.
1. Go monochrome
Summer usually has us wearing fun patterns and florals. But if you're wanting to stand out from the pack, try teaming your party dress with accessories of the same color.
Monochrome outfits create a stunning backdrop for a stand-out piece of jewelry, that smokey eye you've been perfecting, or a bold red lip color. It's a classy, sophisticated look.
Colors that work well for monochrome outfits are white, navy, and silver — with those colors, it's easier to find shoes to match your dress. You might pair a silver dress, shoes, and handbag, for example, with a statement necklace featuring colored stones. Alternatively, you can tie a red scarf in your hair or on your handbag for a pop of color.
2. Mix sweet and sexy
The sweet-and-sexy combo is a proven style strategy works for nearly any summer party. Here's how it works. Pick one element of your outfit (or makeup) that's racy. Combine that with subdued, even girly pieces. Some examples:
Wear stilettos with a girly summer dress
If your dress has a sultry, plunging neckline, wear it with delicate kitten heels
If your dress is very short, add a subdued cape over the top
If your dress is tight and revealing, wear flat-soled sandals and keep your hair in a simple low ponytail
Mixing elements with different style profiles adds balance. You can use the same technique to draw attention to the best parts of your outfit — such as your sultry neckline.
3. Top your party dress with a hat
Use this trick to get multiple wears from the same dress in the same season. Add a hat or bold, but pretty hair clip to the mix. The accessory changes the whole dynamic of an outfit — so much so that few will notice that you're wearing the same dress you wore last week.
Fascinators are lovely choices for cocktail parties. Berets and cloche hats have sophistication. Fedoras are edgy and more casual. Experiment with toppers until you find the style that feels right.
4. Try minimalism
It's very on-trend right now to skip all the accessories, don a natural make-up look, and wear your hair back in a simple ponytail. You can easily pull off the natural look with two things: a dress you love and the confidence to wear it. The result will be elegant. You might even cause other women to feel self-conscious about the number of accessories they're wearing.
5. Pick patterned accessories
I know how it is to shop for a party dress. You spend all your time (and money too) on THE PERFECT DRESS. And then you match it up with random accessories that are already in your closet. Try flipping that script.
Find a neutral dress you already own and shop for standout accessories to wear with it. A patterned bag and coordinating shoes, for example.