iPhone Black Friday 2021 Deals: the November deals are starting!
Posted on |
We may earn a commission if you make a purchase from the links on this page.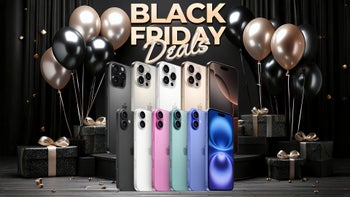 Black Friday—expected to be the biggest shopping event of the year, as usual—is coming November 26, and with it this year's best deals on iPhones are sure to crop up here and there. And, again as usual, we will cherry pick them for you in our roundup of iPhone Black Friday deals here.
Even though Apple doesn't officially offer iPhone deals or indeed discounts on Apple devices in general until the new generation has rolled in, online and offline shops are using iPhone deals as Black Friday doorbusters of sorts to attract shoppers' attention.
Last year, the 5G
iPhone 12
and
iPhone 12 Pro
, as well as their respective smaller (such as the iPhone SE) and larger siblings (despite being the latest and best devices at the time), saw some impressive offers on these devices previously. We expect that the iPhone 13 series, despite being still hot out of the factory, will also get some sort of discount offers during Black Friday 2021!
Will there be Black Friday deals on iPhone 13?
The iPhone 13 was released on September 24, which is just a few months away from Black Friday 2021 on November 26. The new devices were the 
iPhone 13
, 
13 mini
, 
iPhone 13 Pro
, and 
iPhone 13 Pro Max
, and will probably have some sort of Black Friday deals attached to them, but don't expect an outright discount. More probably — generous trade-in offers and bill credits if you sign up for a carrier contract with your iPhone 13 purchase.
iPhone 13 Pro and iPhone 13 Pro Max Black Friday deals
Just as expected, the major carriers have now spilled the beans on their November deals. The iPhone 13 Pro series is in the race, indeed, but deals around them usually involve trade-ins or entering at least a two-year contract. If you are up for renewal, now may be the best time to grab yourself an awesome deal on the iPhone 13 Pro and
iPhone 13 Pro Max
.
It's notable that this year's Pro series have huge cameras and huge batteries. Add to that 120 Hz ProMotion display and it makes the iPhone 13 Pro truly worth the upgrade, especially if you are coming from an iPhone 11 or older.
iPhone 13 and iPhone 13 mini Black Friday deals
The iPhone 13 and
iPhone 13 mini
are also here for value-hunters. Basically, you can get one for free, provided you sign up for Unlimited and trade in a proper old phone.
The iPhone 13 mini may be your last chance to grab a compact iPhone, as Apple is rumored to be canceling its "mini iPhone" strategy. Reportedly, they weren't selling as well as expected. Beats us, we think the mini is absolutely fantastic for people that want a compact phone that still carries the power and camera performance of a big iPhone.
iPhone 12 Black Friday deals
Of course, iPhone Black Friday deals will extend to the rest of the line. Last year's Apple Black Friday sale season, the iPhone 12 series were the hot new item. In 2021, they are yesterday's news, so we expect retailers to treat them like 2019's iPhone 11 series.
Apple still makes and sells the
iPhone 12 mini
, iPhone 12, iPhone 12 Pro, and
iPhone 12 Pro Max
. And we fully expect them to be the target of plenty of "hot deal" stickers. The first deals have now started coming out and these are the iPhone 12 Black Friday deals we have thus far:
iPhone SE Black Friday deals
The iPhone SE (2020) is still the smallest and cheapest Apple iPhone you can grab, starting at just $400. Last year, Verizon and AT&T straight-up gifted you the iPhone SE (2020) if you signed up for an Unlimited plan. Walmart offered $150 off on the with a prepaid plan, dropping the iPhone SE (2020) price down to $250. Not a bad price for a pretty good little device — if you don't mind the old-ish looks and are actually looking for a compact form factor. Although many may have their eye on a new Apple device, the iPhone SE could see deep discounts.
The flood gates are just opening right now and, so far, these are the iPhone SE Black Friday deals we have:
iPhone 11 Black Friday deals
The good old iPhone 11 is still around — Apple still sells it and you can find it at retailers and carriers. It's the last of the modern iPhones to have the curved-side design, so if you are after that one, get in while you still have the opportunity.
Since it's considered a "midrange iPhone", it's safe to assume that carriers and stores will be basically throwing these at us. Well… not really, but we assume chances are high to find an outright discount on an iPhone 11 (no contract required) than an iPhone 13, ok?
The iPhone 11 hasn't popped up in deals just yet, but considering it retails for $500, we imagine we should be able to get them for a bargain when Black Friday draws near-er.
Best Buy, Amazon, Walmart and Target Black Friday iPhone deals preview
For example, last year's Black Friday iPhone deals included Best Buy's discounts of up to $100 across the entire Apple iPhone 12 series (with a new line or account) and these offers could be coupled with additional carrier promotions, making Apple's latest iPhones at the time harder to resist on Black Friday.
Black Friday at Walmart
 is always a massive event, too. The retailer gave buyers the opportunity to save up to $900 on the iPhone 12 series, for instance, and, surprise, surprise, it is still running the exact same deal right now. The iPhone deal consists of a $200 discount from Walmart itself and $700 off with a qualified trade-in and line activation.
The 
Target Black Friday sale
, on the other hand, offered new and existing customers $700 off when you trade in to a new line or upgrade on an eligible unlimited plan. Sam's Club was also running a welcome deals promotion, as members could receive $50 in bill credits by upgrading to an iPhone 12 series model, and an additional $700 when they trade-in an eligible smartphone.
Do T-Mobile, Verizon, and AT&T offer iPhone deals on Black Friday?
You bet, as 
Verizon's Black Friday deals
 included a BOGO sale on all iPhone 12 models and up to $440 off for existing customers that upgrade with an eligible trade-in.  
AT&T's Black Friday
 was also offering up to $700 off the iPhone 12, basically giving it away for free
with a new line or upgrade and an eligible trade-in. 
In addition, AT&T users at Best Buy were able to benefit from an $800 total discount after activating their phone on an unlimited plan and completing a trade-in valued at $700 in bill credits, even for basic phones.
See you on the big day
This is what we know so far for the iPhone Black Friday deals, but like every new year, there are always surprises in store. As well as outright savings on the regular price, retailers do like to have their own twists on particular iPhone deals. It's always a good idea to go in prepared, just as it's also good to greet the shopping event with an open mind to explore the iPhone deals that might unexpectedly open up. There can also be bundle deals sometimes, particularly through mobile carriers – so if both you and a friend are looking for Black Friday iPhone deals together, you just might find discounts to suit the both of you.
We will, of course be updating this page with all the best iPhone Black Friday deals in the run up, and on the day itself, so check back regularly during the shopping event.