Meet the crazy iPhone 13 made from a molten Tesla Model 3
Posted on |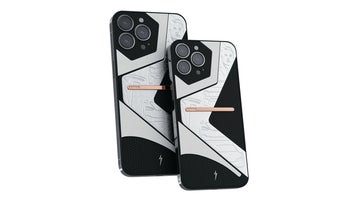 Smartphones nowadays look very similar, and the exclusivity factor is somewhat missing. Granted, you can buy a nice case, or opt for a limited edition color but that's pretty much it. Well, the guys from Caviar (via LetsGoDigital) tend to disagree.
The Russian phone makeover studio has been pimping up phones for several years now, and their latest contraption involves a molten Tesla Model 3 and Elon Musk's bust. The phone in question is an iPhone 13 Pro (you can get the Pro Max version too) that has been made into an Electra Limited Edition.
The Russians have melted a Tesla Model 3 (or some parts of it anyway) and slapped metal inserts into the phone's body. There's an aluminum panel that features some interesting engravings, including a portrait of Elon Musk and Tesla's logo.
The rest of the phone has been tuned up with some premium materials, too – there's titanium in the body, and a copper plate made from the cathode of Tesla's lithium-ion battery. And if you think that's crazy, wait for the "Elon Musk's bust" part.

The bust is made from fused car parts – mainly tin from the hood and the doors of the Model 3. Caviar people believe that owning the bust will bring good luck and make you as successful as Musk himself. You'll have to pay $3,220 for that privilege, though.
Sergey Kitov, founder of Caviar: Smartphones and busts made from a Tesla car are a new level for us. In my opinion, these new items embody the soul of Elon Musk and therefore they will bring to their owners the success and creativity of this outstanding person.
Check out the promotion video that has some insights about the production process of this strange Musk-inspired iPhone. Oh, and by the way, the $2,700 price tag is for the bust only (27 will be made). If you want the actual phone, you'll have to cough up $6,760 for the iPhone 13 Pro version (128GB), and $7,300 for the Pro Max (128GB).