Samsung Galaxy S22 Ultra vs Google Pixel 6 Pro
Posted on |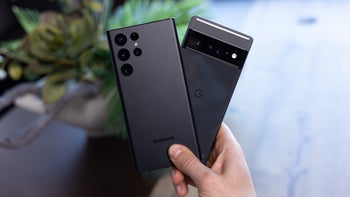 The upcoming Galaxy S22 Ultra will be heralding a pretty massive paradigm shift for Samsung. Indeed, the Galaxy S22 Ultra will be inheriting some business-grade features from the now defunct Galaxy Note lineup, namely a classier design and the ubiquitous S Pen. 
This powerhouse wouldn't come cheap, especially when you consider top-grade devices like the
Pixel 6 Pro
, which would definitely give it a run for its money. Surely, Google's best Pixel lacks many features that will be part of the
Galaxy S22 Ultra
's loadout, but that might not be such a big dealbreaker for most.
Here are our expectations how things would pan out for the Galaxy S22 Ultra and the
Google Pixel 6 Pro
.
Jump to section:
Galaxy S22 Ultra vs Google Pixel 6 Pro: Price
The latest leaks pit the pricing of the Galaxy S22 Ultra starting at $1,299 for the 256GB model. That's a pretty high price tag, considering that last year's
Galaxy S21 Ultra
was a bit cheaper, but we could argue that this year's Galaxy S22 Ultra is way more feature-rich in comparison with its predecessor.
At the same time, the Pixel 6 Pro is a much more affordable device, starting at just $899, making it the clear winner if you're on a tighter budget. Surely, the pricing of the Pixel 6 Pro isn't the only aspect that's making it a noteworthy device, but it is definitely one of the more important things that could tip the scales in its favor.
Galaxy S22 Ultra vs Google Pixel 6 Pro: Design and colors
Thanks to a pretty credible leak, we have a rather good idea of what the Galaxy S22 will look like. An unexpected change that strikes us is the lack of a dedicated camera island where all the camera lenses reside. Indeed, the Galaxy S20 Ultra and Galaxy S21 Ultra featured quite the prominent camera islands, but the Galaxy S22 Ultra completely does away with this significant design element and substitutes it for… well, nothing really.
The Samsung Galaxy S22 Ultra comes with camera lenses that stick out directly out of the phone's rear panel in a P-shape. Certainly a callback to simpler times when cameras were a lot less imposing from a visual standpoint.
Additionally, the Galaxy S22 Ultra will feature an edgier design, reminiscent of the
Galaxy Note 10
and Note 20's general design language. With most flat bottom frame and ever-so-slightly curved display, the Galaxy S22 will also feature an S Pen silo, solidifying its succession over the Galaxy Note line.
When it comes to the Pixel 6 Pro, the glossy glass back is a welcome change in contrast with the matte or plastic backs of previous Pixel phones: aside from looking shiny, the Google Pixel 6 Pro simply sticks to your skin, asserting a steady grip, though using the phone without a case is definitely not recommended.
The curved rear glass also helps with the overall handling: as much as I love the industrial design appeal of straight edges, there's nothing better than curves when it comes to comfort.At the same time, it's not such a fingerprint magnet and allows for wireless charging, so it's a win-win on all fronts. Yet, the camera strip itself is a lint and dust magnet, accumulating tons of pocket debris and often requiring a quick wipe to preserve the pristine appearance.The curved display is certainly a personal preference, and while I love how easy gestures are on such a screen, it undoubtedly feels somewhat dated, as most manufacturers have given up on curved displays already.
In terms of colors, we expect the Galaxy S22 Ultra to be available in black, dark red, green, white. Meanwhile, the Google Pixel 6 Pro in Stormy Black (black), Sorta Seafoam (lime green), and Kinda Coral (soft orange).
Galaxy S22 Ultra vs Google Pixel 6 Pro: Camera
Galaxy S22 Ultra: 108MP main, 12MP ultra-wide, 10MP telephoto, 10MP periscope
Google Pixel 6 Pro: 50MP main, 12MP ultra-wide, 48MP telephoto
The latest round of rumors put a 108MP camera sensor in the Galaxy S22 Ultra, and it remains to be seen if this will become true. That sensor is expected to be the ISOCELL HM3, the third revised version of the camera sensor that made a debut on the Galaxy S20 Ultra a couple of years ago. Aside from the shared specs (108 megapixel count, 1/1.33-inch size, 0.8 nanometer pixels, f/1.8 aperture), the camera sensor in the Galaxy S22 Ultra will certainly feature tons of improvements. Samsung leakster Ice Universe says that the Galaxy S22 Ultra will be able to shoot out more detailed 108MP pictures thanks to updated processing algorithms.
We also expect a 12MP ultrawide camera and two telephoto cameras (10X and 3X zoom), likely 10MP sensors with the same 1/3.52-inch size. The 10X periscope telephoto lens would likely come with an f/4.9 aperture, while the 3X telephoto camera is tipped to land an f/2.4 aperture. Last but not least, a seemingly unchanged 12MP ultra-wide-angle Sony shooter with 1/2.55-inch size and f/2.2 aperture will be taking care of your landscape shots.
Meanwhile, the Pixel 6 Pro does a very good job itself despite the somewhat less impressive camera specs sheet. It "only" comes with a 50MP main camera, 12MP ultra-wide, and a 48MP 4X telephoto, but definitely holds its own against the Galaxy S21 Ultra and
iPhone 13 Pro Max
, for example. But hardware is just half of the picture — software and processing algorithms also play a big role.
The Pixel 6 Pro comes along with exceptional detail and sharpness with the main camera and the telephoto camera, as well as superb dynamics and quite punchy colors. For good or bad, some photos tend to be a tad underexposed as the Google Pixel 6 Pro prefers to err on the side of preserving those precious highlights. Additionally, the 4X telephoto camera feels surprisingly usable, though using the 20X super-res zoom is almost guaranteed to give you some noise and artifacts, but that's to be expected.
Below you'll see some samples from the Galaxy S21 Ultra and the Pixel 6 Pro that showcase their respective camera prowess. It's easy to imagine that the Galaxy S22 Ultra will offer similar or much better image quality in comparison with its predecessor.
Samsung Galaxy S22 Ultra vs Google Pixel 6 Pro: Hardware & specs
Rumor has it Samsung will be outfitting most Galaxy S22 models with Snapdragon chipset. It seems that only users in Europe and Russia will be treated to an Exynos-powered Galaxy S22 Ultra models, while the rest of the world will get a Galaxy S22 with a Snapdragon 898 on board. The Exynos in question is the Exynos 2200, which foregoes the company's custom Mongoose cores for regular ARM ones, and will reportedly be paired with an AMD graphics unit, while the Qualcomm Snapdragon 898 will be powered by the company's Adreno GPU.
Meanwhile, the Pixel 6 Pro is outfitted with Google's first custom chipset, the Google Tensor. Named after Google's Tensor Processing Unit, it's an octa-core endeavor built by Samsung on a 5nm manufacturing process. Now, the Tensor isn't a record-breaking powerhouse, in fact it's slower than most of its direct competitors in various synthetic benchmark tests, but that's not the point of the custom chip. The deal with the Tensor is that it brings efficient machine-learning on board the Pixel 6 Pro and unlocks a ton of nifty user-friendly features, like live translation and transcribing, and others.
In terms of regular everyday usage, with moderate app use, lots of picture-taking and some social media, the Pixel 6 Pro proves to be quite the snappy performer, with a seemingly endless reserve of processing power available on demand. There's some throttling involved when heavy gaming is thrown into the mix, and the phone struggles to sustain its processing pace for longer periods of time.
Our expectations are that the Galaxy S22 Ultra will offer better performance and will lead in synthetic benchmarks, but you'll probably not see a big difference in real-life usage.
Samsung Galaxy S22 Ultra vs Google Pixel 6 Pro: Battery
The rumor mill has decided on a battery shrinkage all across the board for the Galaxy S22 lineup, but so far, the Galaxy S22 Ultra seems to be unaffected. As such, it's likely coming along with a 5,000mAh battery on board. Fast charging and fast wireless charging are certainly on board, too. Surely, the charging speeds probably wouldn't be as outrageous as the ones on the top contenders from China that top up in less than 30 minutes, but should still offer a fast charging experience.
The Pixel 6 Pro comes with a 5,000mAh battery as well. Our tests showed that it performs mostly similar to the Galaxy S21 Ultra, as seen in the benchmarks below, but there's no telling if the Galaxy S22 Ultra will last much longer.
Google's top phone is also more conservative with the charging. Its 30W fast charging top up the phone to 50% in 30 minutes, which is not super-quick, but still fast. There's also fast wireless charging, as well as reverse power share that lets you charge other Qi-enabled devices.