Samsung Galaxy S22 vs Galaxy S21
Posted on |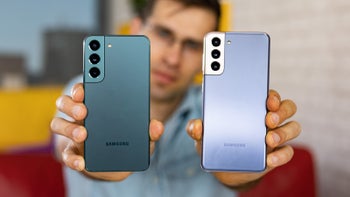 The Samsung Galaxy S22 aims to deliver more in the most compact form factor available in the flagship Galaxy series, and in this article we take a deeper look at all the differences between the Galaxy S22 and its predecessor, the Galaxy S21.
The Galaxy S22 is expected to bring a faster processor and improved cameras, however the overall styling of the phone and the triple camera arrangement should stay. The bigger difference might be that Samsung goes for an even smaller form factor with the S22, reducing both the size and weight.
Keep in mind, that information about the Galaxy S22 in this article is preliminary and based on
leaked specs and photos by @onleaks
, as well as other rumors. The S22 release date is expected to happen in late January or February 2022, and we will be updating this article as soon as we learn more about the upcoming S22.
Galaxy S22 vs S21 differences in a nutshell:
Galaxy S22 expected to be slightly smaller
Faster chips in the S22, same 8GB RAM on both
Similar triple camera system with upgraded sensors
128GB base storage on both, no microSD card support
New color options on S22
The Galaxy S22 takes the idea of a compact phone and truly lives up to it. While last year's Galaxy S21 featured a 6.2-inch display and did not quite feel like a true "mini" phone, the newer Galaxy S22 embraces that idea with a screen of around 6 inches, and will be considerably less tall and a bit less wide.
Samsung has only been making increasingly larger phones, and for the first time with the S22 it's reversing course towards a more pocketable and compact handset. In fact, the S22 is only slightly taller than the miniature
Galaxy S10e
that launched in 2019!
Here's how the Galaxy S22 dimensions compare to recent Samsung flagships:
Galaxy S22 — 146 x 70.5 x 7.6mm
Galaxy S21 — 151.7 x 71.2 x 7.9mm
Galaxy S20 — 151.7 x 69.1 x 7.9mm
Galaxy S10 — 149.9 x 70.4 x 7.8mm
Galaxy S10e — 142.2 x 69.9 x 7.9mm
The rest of the Galaxy S22 looks quite familiar: you get a flat screen, punch hole design on the front and, for the first time ever on a Samsung, completely uniform bezels. Previous Galaxy phones used to have a bit of a "chin", or a wider bottom border, but no more. That might seem like a small thing, but it is actually no mean feat. Apple and Google are actually the only phone makers to achieve that, and their implementations seem to be a little thicker, so props to Samsung.
We also expect to see the latest Super AMOLED screen tech generation with more vibrant colors and higher peak brightness compared to the S21. Of course both phones will support the 120Hz Adaptive refresh rate for buttery smooth scrolling in apps.
Security will be taken care of an in-screen fingerprint scanner of the ultrasonic type, just like on the Galaxy S21.
Performance
The Galaxy S22 will come with all new processors powering the show, and rumors say that the US model will be equipped with Qualcomm's Snapdragon 898, while international models will get the upcoming Exynos 2200 — the first Exynos chipset with an AMD GPU. The Galaxy S21, on its part, has the Snapdragon 888 in the US, while international models feature the Exynos 2100 processor.
We are yet to hear more about the performance differences and will update this section as more information becomes available.
Also, we don't expect much of a change when it comes to the RAM or storage. Both phones are expected to feature 8GB of RAM and 128GB of native storage. Don't forget that Samsung no longer supports microSD cards on the Galaxy S21, and there will be no microSD card support on the S22 either.
Cameras
Just looking at the camera setup on the back, it's hard to tell the S22 apart from the S21, as both have similar triple camera systems. There's actually one tiny features that you can use to tell these two apart: the LED flash is positioned next to the bump on the S22, while on the S21 it is inside the camera bump.
So, the camera hardware… on the Galaxy S22 it consists of three sensors: the wide, ultra-wide, and telephoto zoom cameras. The main camera might get a brand new 50MP sensor, an upgrade over the 12MP one used in the S21, but that's not certain quite yet. The other two sensors are expected to remain at 12MP.
We will be updating this section with more details and sample photos as soon as they become available.
On the video front, Samsung is still the only major player to support 8K video, and of course, you can record at lower resolutions like 4K60, 4K30, and 1080p on both phones as well.
Battery life and Charging
With the smaller size, Samsung will also use a smaller battery on the Galaxy S22. The exact battery capacity is not confirmed just yet, but rumors say the S22 might feature a 3,800mAh battery vs a 4,000mAh battery on the S21, which is a 5% reduction in size.
We are yet to see whether Samsung can offset this smaller battery size with more power efficient chips and display technology, and achieve the same battery life that it has on the S21, or if actual battery life also takes a small hit with this smaller form factor.
On the charging front, both phones are expected to charge at up to 25W, and don't forget that you don't get a charging brick in the box with either one, so if you don't already own a fast charger, you would need to buy that separately. Both also support
wireless charging
with max speeds of up to 15W.
Specs Comparison
Galaxy S22
Galaxy S21
Size and Weight
146 x 70.5 x 7.6mm
151.7 x 71.2 x 7.9mm
Display
6.06″ AMOLED, 1080p, 120Hz
6.2″ AMOLED, 1080p, 120Hz
Processor
Snapdragon 898 in the US
Exynos 2200 internationally
Snapdragon 888 in the US
Exynos 2100 internationally
RAM
8GB RAM
8GB RAM
Storage
128GB
128GB
Cameras
50MP main camera
12MP ultra-wide
12MP 3X zoom telephoto
12MP main camera
12MP ultra-wide
12MP 3X zoom telephoto
Battery size
3,800 mAh
4,000 mAh
Charging speeds
25W wired, 15W wireless
25W wired, 15W wireless
Prices
starting price of about $800
after Galaxy S22 launch, S21 prices expected to drop by $100 to a base of $700
Expect Galaxy S22 to break cover at a late January or early February Samsung Unpacked event alongside the more expensive Galaxy S22 Plus and Galaxy S22 Ultra. Pre-orders for the Galaxy S22 series are rumored to start on February 8th, and actual release date is allegedly set for Friday, February 18th.
There's no word on pricing yet, but the Galaxy S21 retailed at $800 in the US, and the Galaxy S22 should cost about the same.