The OnePlus Nord 2 Pac-Man edition is canned nostalgia
Posted on |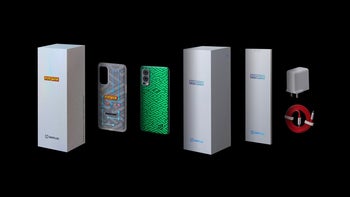 OnePlus has a great history in launching special edition phones. It can be traced all the way back to the OnePlus 6T McLaren Edition launched in 2018. Since then OnePlus has produced some interesting limited and special edition phones, and the latest one is the Nord 2 x Pac-Man Edition.
This phone is pretty special and will make retro arcade fans happy. There's a glow-in-the-dark Pac-Man maze on the back hidden under a plain blueish paint with a small Pac-Man logo. Another cool detail is the Pac-Man-themed case, featuring a moment of the classic game with Pac-Man himself being chased around by the ghosts (Blinky, Pinky, Inky, and Clyde).

The Oxygen OS has been customized too. There are eight Pac-Man wallpapers to choose from, along with a cute Pac-Man charging animation, completely redesigned icons with a retro flavor, Pac-Man notifications and sounds, and more. Even the case is covered in Pac-Man vibes."OnePlus deeply customized the hardware and software of the OnePlus Nord 2 x PAC-MAN Edition," says Oliver Zhang, who is in charge of the OnePlus product portfolio, "infusing it with endless fun and entertainment from the classic PAC-MAN arcade game."
If you order the phone directly from OnePlus, you get a Lego Pac-Man stand that you need to build yourself, and finally – there's a pre-installed version of 2015 (free-to-play) game Pac-Man 256 on the phone.

The phone itself is the same OnePlus Nord 2 that conquered our rankings for budget phones. You all know the package – a 6.43-inch 1080 90Hz OLED display, MediaTek Dimensity 1200-AI processor, and 4,500mAh, 65W fast-charging battery. The camera setup is also the same – a 50-megapixel main camera, coupled with an 8-megapixel ultrawide and 2-megapixel monochrome snappers.
How much will OnePlus Nord 2 Pac-Man cost?
The OnePlus Nord 2 x Pac-Man edition goes on sale tomorrow in India, the UK, and throughout Europe. Here's the pricing:
In India, prices will start at ₹37,999, or the rough equivalent of $512 USD.
In the UK, the OnePlus Nord 2 Pac-Man will sell for £499, or ~$673 USD.
Throughout the rest of Europe, the special handset will sell for €529, or about $612 USD.