The Very Best Beach Outfits — and How to Copy Them • Budget Fashionista
Posted on |
Summer is in full swing and if you haven't been hit by the travel bug, it'll happen soon. You may find yourself spontaneously booking a beach weekend at any moment — and for that, you need intel on putting together the perfect summer beach outfit. Here's the beach outfit download in three easy steps, complete with outfits to copy and where to shop.
First, get the right swimsuit
This post may contain affiliate links. See our privacy policy.
Here are some guidelines to help with your search.
No side ties! I love a side tie for their adjustability. But you can't wear anything but a kimono over them elegantly. Your palazzo pants won't fit right and your cover-up dress will lose its shape. Skip the side ties for ultimate versatility.
Solid color. A white suit looks amazing under layers but is best if you have no plans of swimming. Soft blues and greens are also good choices. Black suits, as flattering as they are, can be too dramatic under sheer, floaty coverups. But then, a black suit looks amazing when you wear it as a top, paired with a midi skirt.
Two-piece or one-piece. The feeds will have you believe that fashion gals only wear bikinis. Don't believe it. Wear the suit you love and layer over it with confidence.
Halter top or v-neck. Halter tops and v-necks provide a nice balance between style and support. They're also quite flattering.
As for places to shop for the right suit, try Cupshe, Catalina Swimwear, and Summersalt Swimwear.
Next, layer
Layering is where the magic happens. You'll transform your swimsuit into an outfit suitable for lunch on the patio, shopping the boardwalk, or turning heads as you walk the shoreline. Read on for four Instagram-worthy summer beach outfits.
1. The sheer set
Finding a sheet set like this is no easy task. Or, I should say, finding a sheer set that's affordable and also not trashy is no easy task.
Look for a cotton gauze or linen set that's loose-fitting. Skip over anything tight, crochet, and synthetic sheers. Tight or crochet looks like a Halloween costume. And a nylon pant at the beach sounds horribly uncomfortable.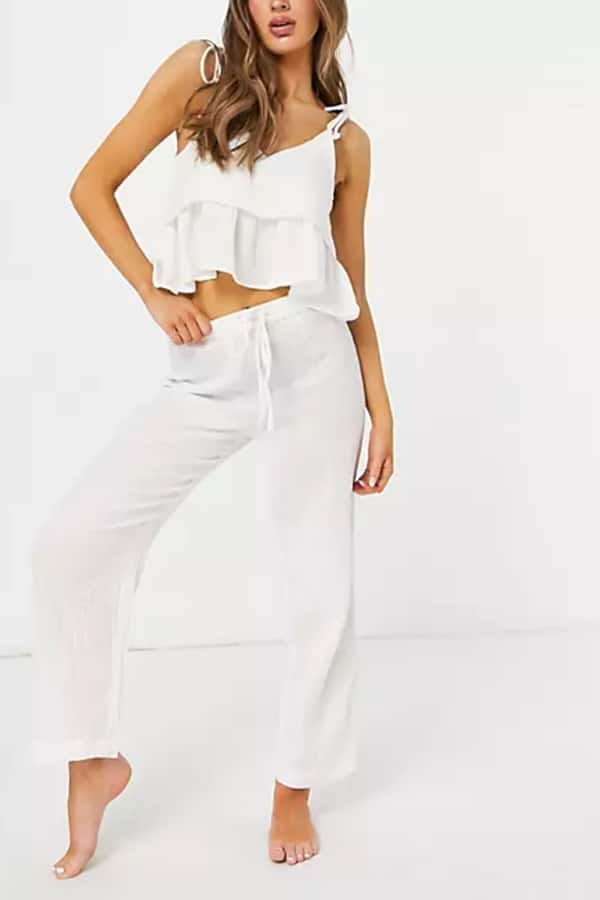 I found the gauze set shown above at ASOS. They're technically pajamas, but who cares? The fluttery cami retails for $20 and you can pick up the pants for $23.
2. Colored denim shorts and button-down
The key to making this outfit "beachy" is to find a very lightweight button-down top. Something sheer or close to it works here — so there's hint of suit underneath. Also, you may want to avoid short, distressed denim shorts if you are older than 15. That look is kind of overdone and can be too youthful for an adult.
Beyond that, you can easily tailor this summer beach outfit to suit your comfort level. If you love showing of your legs, choose a short short, for example. Or, go more conservative with a short that ends just above your knee. Likewise, you can tuck your top and keep it buttoned. Or, leave it unbuttoned and tie it short in the front to show some midriff.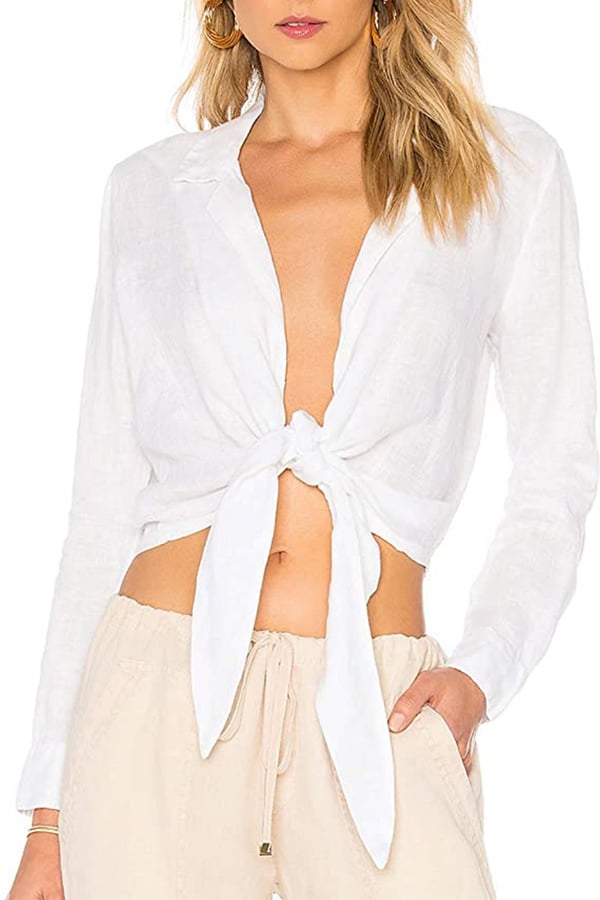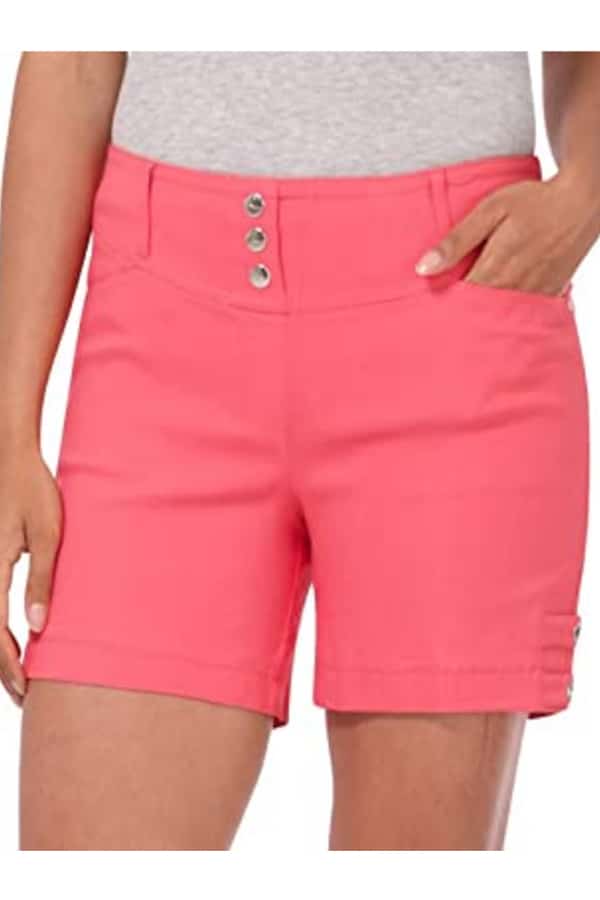 The $23 Amazon top shown above is technically a beach cover-up. You could also buy a standard shirt if you want to close it up in front. Pair this top or a similar one with these slimming shorts ($34, also on Amazon) for a sexy beach ensemble.
3. The wrap skirt
Your swimsuit, bikini or one-piece, can easily function as a top with your favorite lightweight wrap skirt. A skirt that's clingy without pinching through the waist and hips works best.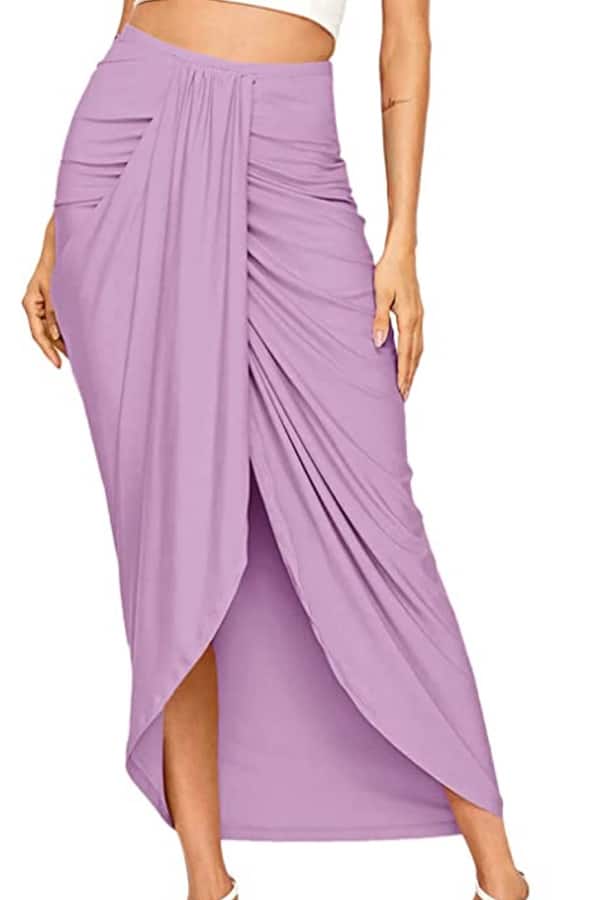 Again, you can tailor this look to suit your shape and tastes:
The A-line shape always has a nice elegance to it, but you might prefer a straighter silhouette on your body shape.
A floral skirt with a tiered hem has a nice sweetness to it, while a midi with a high leg slit adds a flirty element.
A midi length skirt is pretty and feminine. See this piece on Amazon for $33. A shorter skirt like this one for $9 is sportier and mimics a beach cover-up. Whatever length you choose, you shouldn't have to worry about your skirt falling off the way a cover-up might.
Finally, accessorize
You can finish your summer beach outfit with flat-soled sandals and a straw or canvas tote bag. You might want to add a floppy hat and sunglasses, too. Whatever you have on hand probably works great here — don't overthink it. Keep your beach look easy, low-maintenance, and comfortable. Sure, you want to look great, but you need to feel great, too.