Try These Inspiring Picks • Budget Fashionista
Posted on |
The start of a new year sparks all kinds of inspiration in our lives. You only need to glance at your IG feed for proof. Everyone is hopeful about leaving last year's negative energy behind and embracing a fresh outlook.
This post may contain affiliate links. See our privacy policy.
A fresh start can take many forms. You could get a new hairdo, a new lip color, or — my favorite strategy — do some January sales shopping for a wardrobe refresh.
January sales generally deliver fabulous discounts on winter pieces, like tall boots, wool coats, and chunky sweaters. Your favorite retailers are clearing out the fall/winter collections to make room for spring and summer. As such, it's almost foolish to wait if you have a chic sweater or cozy coat on your wish list. They're marked down, people! Now is the time.
Plus, a good, post-holiday sale is as good an excuse as any to delve into new looks and styles you may not have considered before. Here are a few pieces I love for starting your year off on the right foot.
January sales shopping: What to buy
1. A wear-everywhere blazer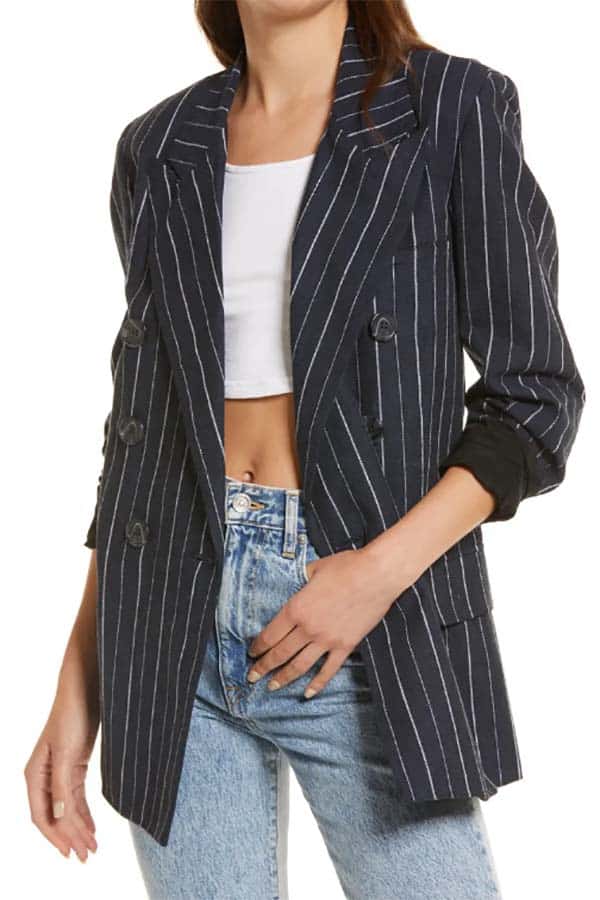 For those in-between days when the snow and ice still hasn't quite made an appearance, you need something like this pinstripe blazer from Free People to see you through. It's classy and comfortable — that is, when you don't have miles of abs showing underneath. Oh, and this blazer is 40% off right now! The normal price is $168, but Nordstrom has it marked down to $99).
Most of us would wear this blazer on casual days over a white tee and jeans. When you're headed to the office, the blazer also wears nicely over tailored pants and a blouse.
2. A fun sweatshirt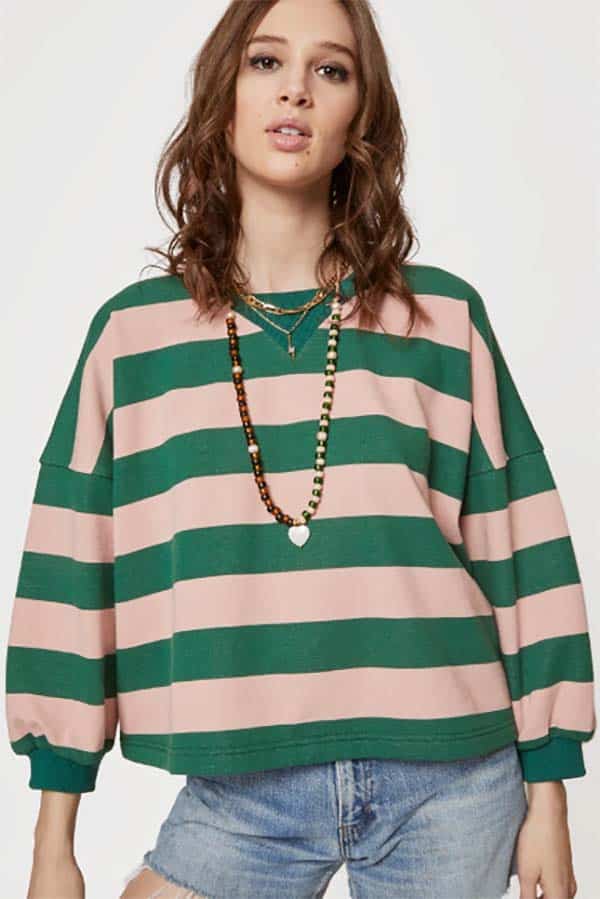 You may be leaving a few things behind in the new year, but your penchant for wearing cozy winter loungewear is likely not going anywhere.
While you might be in full sweats-and-joggers mode on weekends, you can easily dress up even your most low-key looks by swapping a basic top for this Rebecca Minkoff striped sweatshirt. Drop shoulders and a bold pink-and-green color combo blends comfort and of-the-moment style perfectly.
You can pick up this designer piece now for $59, discounted from $118.
3. A practical pair of boots
Boot styles come and go with the seasons. Remember the sock boot? It was SO HOT in 2018 and now, well, the style looks dated.
Let that be a warning: If you invest in boots while you're shopping January sales, choose a classic riding boot style. You can wear them for the remaining winter months and still feel good about slipping them on next fall.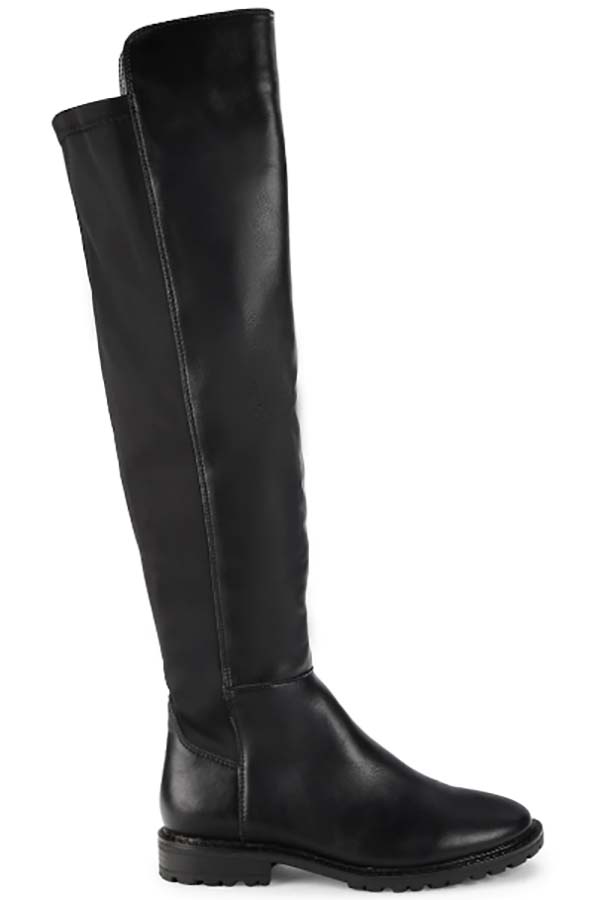 These black boots from Penelope have that classic styling, plus a chunky heel for some edge. The best part? They're waterproof. No compromising your look to keep those toes dry — woop!
The price is $100, discounted from $200. Sizes on these babies are selling out fast so you need to act fast if you love them.
4. A sparkly top
Why limit your sparkly self to the holiday season? Unleash your love of all things shiny and sparkly year round. Any time can be your time to shine.
Plus, garments that shimmer are easy to find on sale this month. Retailers figure we're done with sequins after NYE, but what do they know?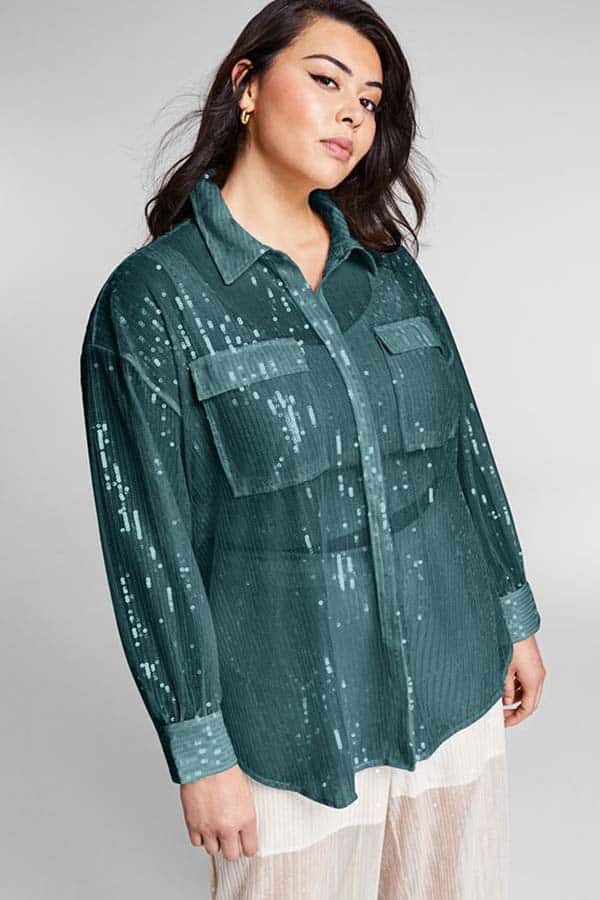 The Jeannie Mai X INC Sheer Sequin Shirt is a great example. The top is an eye-popping combo of rich green and sequins. Tuck it into a pair of sleek jeans, slip it on beneath a blazer, or wear it in lieu of your usual white tee. You'll love how it gives every outfit a more fashionable twist. Or, if you prefer something more subtle, there's a cream version too.
You can get this top in your closet for $55, marked down from $109.
5. A fashion-forward sweater
If your usual sweaters are more practical and straightforward, January is a perfect time to try something outside your comfort zone. Look for bold textures in lieu of bright colors (which can make a sweater feel unapproachable).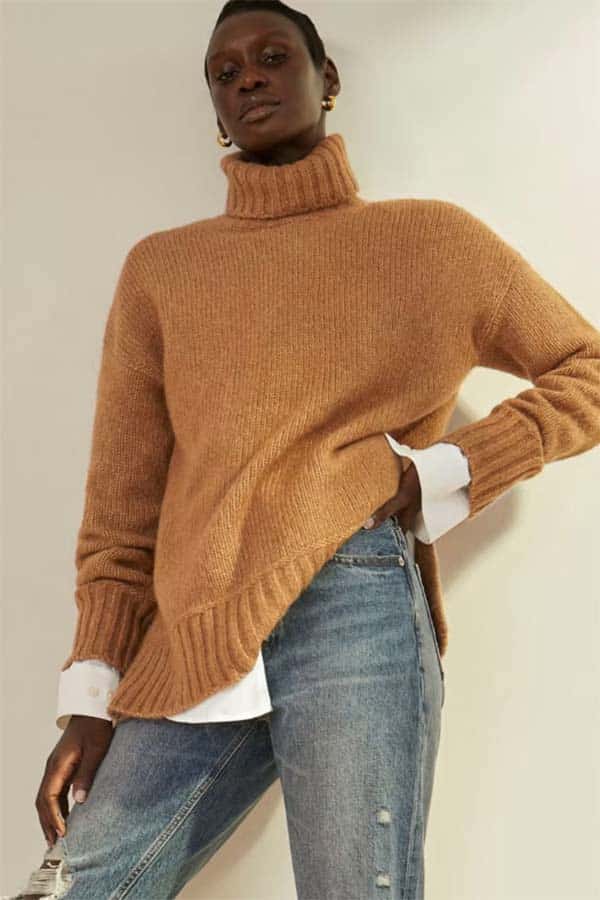 Something like this Everlane's Cloud Turtleneck fits the bill nicely. A drop shoulder and heavier ribbing at the cuffs, hemline and neckline set the sweater apart from the same-old, same-old. You can wear it under a long blazer with a structured skinny pant to work. But it's also warm and cozy enough to wear with jeans on the weekend.
Get it now from Everlane for $75, marked down from $150.