World's first TSMC 4nm chip is here—the MediaTek Dimensity 9000 5G
Posted on |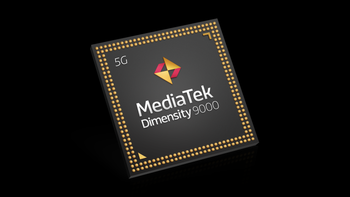 MediaTek, a major player in the chip manufacturing industry, has just released arguably its first groundbreaking chipset in years—the Dimensity 9000 5G. The announcement was made during the MediaTek Summit conference, and let's just say the company introduced a lot of "firsts" with this new chip.
For a long time, MediaTek has been mostly focused on mid-range and "premium" SoCs. Now, however, with the Dimensity 9000 5G, it is trying to enter the major leagues with its own flagship product. If the specs are to be believed, they alone could make it a grand entry.
What is new with the Dimensity 9000 5G
The Dimensity 9000 5G is the first TSMC-made chipset built on the 4nm process. Being a 4nm chip, it offers more density—6% to be exact—which allows for further expanding its capabilities. Specifically, in this case, it is both better performance and higher power efficiency.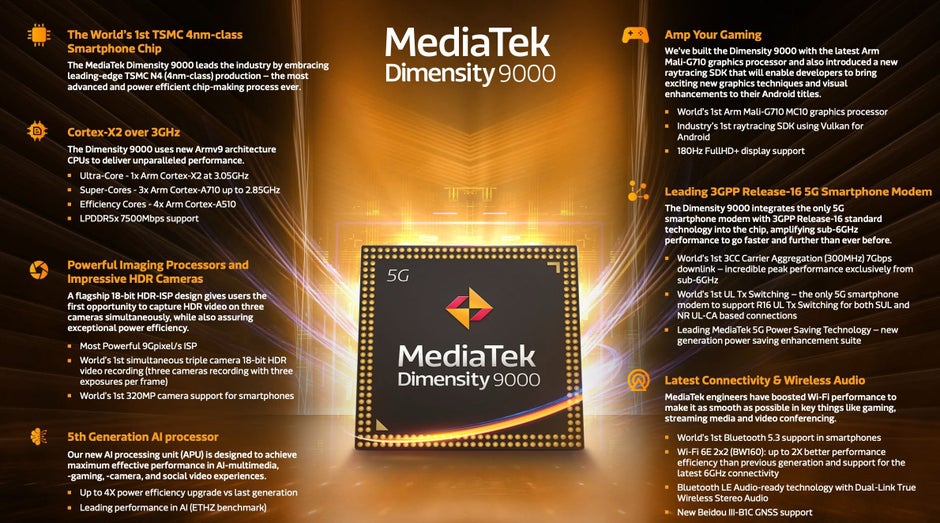 MediaTek has seemingly cramped all of the latest tech it could think of inside its new flagship chipset. The Dimensity 9000 5G is the first SoC to have a Cortex-X2 core clocked at up to 3.05GHz. But wait, there are even more "firsts". For example, this is also the first smartphone chip to have support for Bluetooth 5.3, which offers improvements in stability, power efficiency, and user experience.As a small Bluetooth-related sidenote, While on the topic of Bluetooth, MediaTek's new chip is also Bluetooth Audio LE-ready with "Dual-Link True Wireless Stereo Audio."
Dimensity 9000 CPU
The Dimensity 90005G consists of a 1+3+4 setup. Besides the Cortex-X2 (ultra core), there are three Cortex-A710 (super cores) clocked at up to 2.85GHz, and four efficiency Cortex A510 cores clocked at 1.8GHz. Combined, MediaTek claims that these eight cores beat current Android competition and offer similar power to that of the A15 Bionic found inside the iPhone 13 series.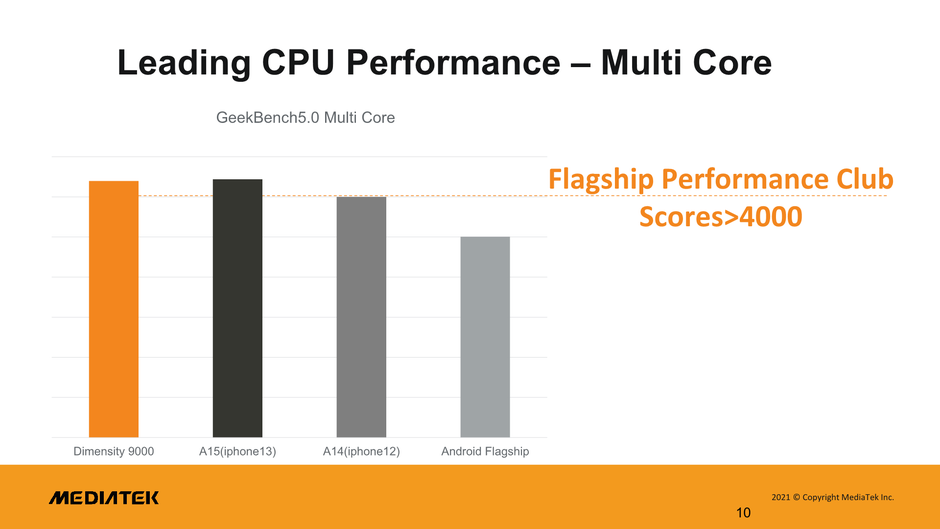 Contributing even further to the list of world firsts for the Dimensity 9000 5G is support for LPDDR5x RAM with speeds of up to 7500 Mbps, as well as a 14MB cache. MediaTek says that the 14MB cache by itself ups the performance by 7% while improving the bandwidth consumption by 25%.
Dimensity 9000 GPU
Moving on to the next "first" with the Dimensity 9000 5G, which is the Mali G710MP10 GPU. It consists of 10 cores with maximum frequencies of approximately 850MHz. MediaTek showed some slides that showcased a 35% increase in performance and 60% higher power efficiency compared to current Android flagships.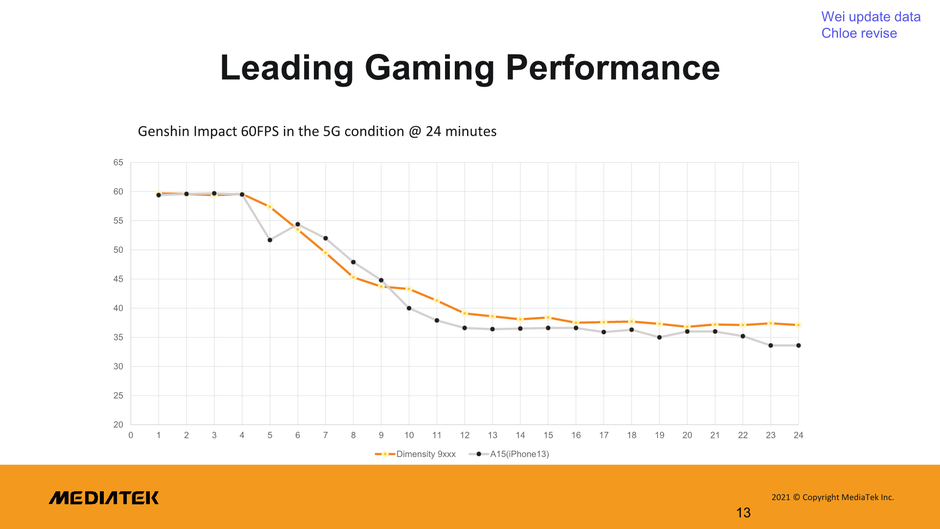 There was also a graph showing that the Dimensity 9000 5G is slightly ahead of Apple's A15 Bionic when it comes to long-term performance. The iPhone 13 has made a name for itself in many ways, but one of them is for its throttling issues due to bad thermals. It would be interesting to see how a handset equipped with MediaTek's flagship chipset would fare.
What do these specs amount to?
Thanks to its outstanding specs, the Dimensity 9000 5G is capable of capturing 4K HDR video from three cameras at the same time. Not only that, but it can also handle up to 270 fps while shooting an 18-bit 4K HDR and 180 Hz Full HD+ video. Additionally, there is support for 320MP camera sensors.In terms of connectivity, the new flagship SoC from MediaTek has a 5G modem capable of sub-6Ghz 5G with maximum download speeds of up to 7Gbps. The Dimensity 9000 5G is also the only model to support R16 UL Tx Switching for both SUL and NR UL-CA-based connections.
The first smartphone with the Dimensity 9000 5G on board is said to launch sometime near the end of Q1 2022. It remains to be seen, though, which handset, in particular, that will be.